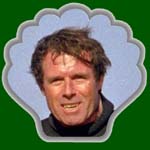 Dive Dry with Dr. Bill
#348: Wreck Alley Part II- Way Up North- The Yukon
Way back in 1972 I was preparing to leave Catalina to head "north to Alaska." I rebuilt my 1955 M38A1 military jeep so I could drive it up there and bought camping gear that I still have to this day. Later that year the Toyon school announced it was going coed, so I canceled my plans, thinking all too optimistically that a coed school would draw single female teachers and end my somewhat monastic life. Recently I finally made it to the Yukon... but not to mine gold in Alaska. Instead, I dove the jewel of San Diego's Wreck Alley. Fortunately that experience was MUCH warmer than my life would have been "way up north."
If you read last week's column, you know of my first day's experience diving the Ruby E. and NOSC Tower in Wreck Alley. Both our dives on Sunday would be on the Yukon. Since dive buddy Joel and I were staying with Dick and Bonita, we had the experts upon whose experience to draw before our dives. Over a fantastic dinner cooked by Bonita, we all talked diving, some of the history of the sinking of the Yukon (in which Dick and Bonita both played big roles), and the possibilities of sinking other large wrecks off Catalina and elsewhere.
In its heyday in the Canadian Navy, the Yukon was a 366 ft. MacKenzie class destroyer escort. It was launched in 1961. The San Diego Oceans Foundation (SDOF) obtained this vessel and readied it for its intentional sinking as part of world famous Wreck Alley. The vessel was prepared for its "afterlife" as a diver friendly wreck with access holes cut into its hull and certain areas closed off to prevent divers from entering them for safety. It was supposed to be sent to the bottom by blowing up explosive charges in its bow and stern, but rough water the day prior to the planned sinking swamped it, and she went down without assistance. Unfortunately this unintentional descent left her listing on her port side in waters 105 ft deep. The minimum depth on the starboard side averages about 75 feet.
Joel and I prepared for the first dive and dropped down to the deck. Visibility was not stellar, but then it rarely is in San Diego. Our dive park had an estimated 70 ft. of visibility last week, while the Yukon generally experiences 15 to 40 ft. On the day of our dives, it was at the lower end of that range. Several mooring balls have been placed on the wreck so more than one dive boat can visit it at the same time. We used the stern mooring so our descent put us at that end of the vessel, which is greater than the length of a football field. The poor visibility prevented me from getting an overall perspective of the vessel, but my interest was in the critters attached to or roaming about its hull.
Just as on the Ruby E. and NOSC Tower, many of the critters were suspension or filter feeders taking advantage of the ample food brought in by the currents and swell. Once again the beautiful red, pink and orange colors of corynactid sea anemones gave the vessel a very attractive appearance. On this wreck the larger white Metridium anemones were far more abundant than they had been on the Ruby E., giving me good opportunities to film these colder water cnidarians that are related to corals and jellyfish.
I planted myself on the steel hull of the wreck to film one of the larger Metridiums. I have never seen this species off Catalina, even at depths down to 200 feet, so I wanted to get some good footage for my collection while I could. I felt someone tugging on my fin and became irritated. The last thing a videographer or photographer wants someone to do is pull on their fins while they are filming. Well, maybe not the last thing, but very near the top (or bottom?) of the list. Finally I turned to look at Joel and find out why he was disturbing my work. There, less than 10 feet away, was a large ocean sunfish or Mola mola. It was near the limits of visibility and I knew I couldn't get any decent footage, so I didn't try. When Joel and I got back to the dive boat, he said the sunfish had been watching over my shoulder as I filmed. Glad I scared him away... I'm not giving away any free tips on my underwater filming technique to anyone!
San Diego waters generally are several degrees colder than ours here off the southeastern end of Catalina's leeward side. This is largely due to a combination of the deep canyons offshore and the direct exposure to the incoming swells. Because of the colder temperatures, I often see critters at reasonably shallow depths that I can only see in deep waters off Catalina... or by going to the colder, northern islands like San Miguel. For example, I easily located a brilliant red alga known as Maripelta rotata which I only see off Catalina in depths of 150 to 200 ft. The cold water kelp Pterygophora californica, which formed understory forests at San Miguel Island, was attached to the hull of the Yukon. I don't remember ever seeing it off Catalina. Fish known as painted greenlings were fairly abundant, but I also see them on Catalina's windward sites or the colder, deep leeward sites.
One species I've never filmed before was the leather star, Dermasterias imbricata. This sea star or starfish is known from Sitka, Alaska, down into Baja California, but is much more common in the northern part of its range suggesting it, too, is a cold water species. However, I had to wonder why I've never seen it off Catalina since it is known from even warmer, shallow water habitats in upper Newport Bay. Its eggs are fertilized externally in the water column so I assume it has planktonic larvae. However they may only last a short time in the water column before settling out, and not be able to disperse as far as Catalina. As usual, always a new mystery to consider on my dives... that's what makes me keep descending after nearly 50 years.
I enjoyed my two days of diving Wreck Alley courtesy of the LaVerne ECO Dive Club. I'm not wreck trained, so I did not penetrate into the interior of the Yukon or Ruby E. My interests are in the critters on the outer hull. However, many wreck divers dive vessels like this to practice entering the internal compartments of these ships. I've penetrated a few wrecks from the Caribbean to Asia, but this one was dark due to the low visibility and I was content to remain on the outside. Wreck divers are usually interested in the history of the ships they dive. Dick Long and Joel told me a rather humorous story about this one. Instead of the massive gun barrels one would expect on this warship, they looked more like soda straws. It turns out the original barrels were removed... and replaced by spare highway light poles! Wish they still had the bulbs and electricity to further "illuminate" the wreck for me!
© 2009 Dr. Bill Bushing. Watch the "Dive Dry with Dr. Bill" underwater videos on Catalina Cable TV channel 49, 10:00 AM and 5:00 PM weekdays and on Charter Communications Cable channel 33 at 7:30 PM on Tuesdays in the Riverside/Norco area. Please help me climb out of self-imposed poverty... buy my DVD's (see this link). Yes, take Dr. Bill home with you... we'll both be glad you did!
To return to the list of ALL of Dr. Bill's "Dive Dry newspaper columns, click here.

The "guns" of the destroyer Yukon, the leather star on the hull; and the
large Metridium anemones found abundantly on this wreck
This document maintained by Dr. Bill Bushing.
Material and images © 2008 Star Thrower Educational Multimedia