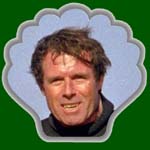 Dive Dry with Dr. Bill
#349: Diving D'Yellow Boat
It was forty years ago... Woodstock. It was the 60s and I was there. No, not at Woodstock. I had planned to go with a few friends of mine from Harvard, but while staying with my folks in Chicago I got a call from Catalina. It was my new employer, the headmaster at the former Toyon school, asking "Are you certified?" I responded "I'm 'experienced,' but certified?" Apparently even in the wild and woolly 60s one had to be SCUBA certified in the state of California. Back in the Midwest we dove to clean swimming pools and in quarries without a clue as to what a "c-card" was. So, in August of 1969 I was heading to Newport Beach to get certified by Ron Merker instead of attending THE rock concert of the century. On August 24th I will celebrate the 40th anniversary of my arrival here... when I first dove Catalina at Arrow Point on the Golden Doubloon.
But this column isn't about me... it's about the critters I've seen underwater over that period of time. The swimming pools in the Midwest lacked any sort of marine life (although they had GREAT visibility) so the first eight years underwater don't count in that respect. Recently I had a great experience on board the "Andrea M," Danny Howard's dive charter boat based in the San Diego area. I had met his friend Gayle van Leer diving with the Roddenberry Dive Team at San Miguel Island. Gayle e-mailed me to see if I would like to dive with them for two days as they were coming to Catalina. Of course I accepted. Danny's dive boat is very unique... a sleek chambered aluminum hull powered by twin 150 hp Suzuki outboards. Scripps Institution of Oceanography and Cousteau teams also use boats like this. We were off to dive sites like Eagle Reef at the West End in no time!
The first day we dove Ship Rock and Sea Fan Grotto, and the second day Eagle Reef and Pirate's Cove. It was a nice mix of sites and I enjoyed the diversity after diving at Casino Point most of the last 14 months. Danny's boat is a "six pack" operation normally chartered by tech divers, underwater photographers and spearfishers. It was well set up for such groups... and perfect for just the three of us, even though we had about a dozen SCUBA tanks and a rebreather on board. Gayle and I were to buddy up because we were diving open circuit (regular SCUBA) and Danny would go solo since he was on a Revo rebreather and could go deeper and dive longer, or so we thought. Now I'm no air hog and at Ship Rock dove to more than 100 feet for nearly an hour total. However, buddy Gayle surfaced with half a tank left! We decided she and Danny would pair up the next day, and I'd dive solo since someone had to be topside to watch the boat.
The warm near-surface waters have caused changes in where I find the critters, and we haven't even been hit by the El Nino yet. Down at the equator, surface water temperatures for July set a new record. If that hits us this fall, it could get really toasty. In fact, checking the lowest temperature on my dive computer last weekend showed 81 degrees F! I knew that was wrong, especially since my second computer showed 59 F. I guess I need a new battery. The lingcod and other colder water species like rockfish were down in deeper water so we didn't see any on our dive at Ship Rock. The giant sea bass also appear to have descended to hover over deeper thermoclines.
I encountered seven green abalone at one of the sites and decided to do something we divers enjoyed decades ago when they were abundant... before we harvested them for dinner. I grabbed a drifting piece of giant kelp and placed it near the abalone's sensory "tentacles." It immediately reared up and pounced on the tender salad makings and proceeded to munch away. Hopefully that unexpected meal will help it on its way to mating since these abalone were all within the approximately 18 inches required for successful mating in these broadcast spawners. I'd love to taste abalone again before I go to the Big Dive Site in the Sky (or, gulp... warmer waters).
At Ship Rock the colder water painted greenlings were still present in shallow water, although one was constantly hounded by a garibaldi with nothing better to do. The deeper water kelps were thick, undoubtedly hiding many a critter from my prying eyes and camera. I did spot a tiny juvenile starfish about 1/4" in diameter on one of the blades. It had settled out of the plankton after drifting from its birthplace, and was ready to start its adult life... if a fish didn't munch on it.
Sea Fan Grotto was murkier than expected, but the shallows provided good visibility. The Asian kelp Sargassum filicinum that has invaded so many of our leeward side dive sites had completed its annual life cycle, and the dense adult kelp were almost entirely gone. However, I could see plenty of the next generation starting to spring up, ready to dominate the rocky reefs again this winter. Maybe I'll head to the Philippines to avoid them this year! I've observed that the male garibaldi have abandoned their nests at Casino Point, and it was the same story here. No longer were they rushing out to defend freshly laid eggs, and other algae were growing in the nests since the boys were no longer weeding them out. Gayle located a small two spot octopus climbing the rocky wall, and I was able to get some good footage of it.
After our two dives we returned to Avalon, and I suggested we have dinner at The Lobster Trap after we showered. Danny and Gayle were pleased both with the dinner and the entertainment provided by legendary Catalina musician Trevor Jones. Even though it wasn't beer, Trevor accepted a glass of red wine from us. The next morning we were off to Eagle Reef. Danny's boat is so fast (although he is very safety conscious) that I barely had time to set up my camera and don my dive gear before we were there! I wondered if we would encounter the Humboldt squid, since they were sighted near here during daylight the previous week. No luck... good or bad.
As I crossed the reef to the seaward side, I did encounter a solitary male giant sea bass. Of course I empathized with him since neither of us had a lovely partner this summer. The story of my life, but I hope not his... we need them to mate and continue the recovery of that magnificent species. My mating days are probably over. I was astounded to see at least eight mature horn sharks in a fairly small stretch of the reef. Of course they were all napping to prepare for a night of munching. Lobster were also pretty abundant and pretty daring... venturing out of their holes to admire my underwater camera. Better get ready for lobbie season, boys and girls... October 3rd is approaching fast!
Since the afternoon winds had picked up and small white caps were present past Long Point, we tucked into Pirate's Cove as our final dive site. I was pleased since I wanted to get more video footage of another Asian kelp, Undaria pinnatifida (known as wakame to sushi enthusiasts) that invaded our waters about a decade ago. It is believed this potentially invasive species arrived when a large cargo ship cleaned its hull off White's Landing. There ought to be a law... in fact, I think there already is! Like our giant kelp, wakame alternates between a microscopic, sexually reproducing generation in the summer and a larger (up to 5 or 10 feet) spore producing generation in the winter and spring. The large sporophytes were dying out, and my eyes are too poor to detect the microscopic plants. Although our local kelp crab will apparently munch on this introduced species, perhaps we need to start harvesting it locally for sushi to control it from spreading further. Pass the wasabi, please.
It was great to get out on the water on two wonderful summer days to dive, and enjoy the beauty of our island during my surface intervals. Thanks, Danny and Gayle. Forty years ago when I arrived on Catalina aboard the Golden Doubloon dive boat, I came up on deck to see the island for the first time. I had spent much of the previous summer in Italy and the Greek Islands, and actually planned to earn enough at the school to return to Greece and write "the Great American Novel." Instead, I fell in love with Catalina. It had the look and feel of the southern Mediterranean, especially after Wayne Stout started stocking ouzo at Tom Cats in response to my request in the fall of 1969. My dive friend Mia from Manila spent part of her summer in Italy and Greece and loved it... hopefully she'll give us a try on Catalina! I'll harvest some wakame for sushi... but no abalone!
© 2009 Dr. Bill Bushing. Watch the "Dive Dry with Dr. Bill" underwater videos on Catalina Cable TV channel 49, 10:00 AM and 5:00 PM weekdays and on Charter Communications Cable channel 33 at 7:30 PM on Tuesdays in the Riverside/Norco area. Please help me climb out of self-imposed poverty... buy my DVD's (see this link). Yes, take Dr. Bill home with you... we'll both be glad you did!
To return to the list of ALL of Dr. Bill's "Dive Dry newspaper columns, click here.

Danny Howard's unique yellow charter boat at Ship Rock (courtesy of Gayle), horn shark hidden in a crevice;
abalone rising up to capture and munch tender "greens" and dying Asian wakame kelp at Pirate's Cove.
This document maintained by Dr. Bill Bushing.
Material and images © 2008 Star Thrower Educational Multimedia