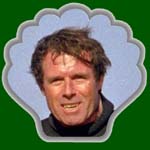 Dive Dry with Dr. Bill
#387: The "SCUBA Prom"
While in high school, I was never very big on "the prom." During junior year my mother threatened me with having to take my younger sister if I didn't find a date, so I called a girl I hadn't seen in two years and (whew) she accepted. Senior year the school loudspeaker kept exhorting girls to ask four of us (the male leaders of the student body) to prom since none of us had asked anyone to be our date. Fortunately no young woman rose to the challenge in those days before real women's lib so my best buddy and student body president, Tom Hallquist, and I tried to crash the dance in our cut-offs and t-shirts... and (to our relief) were promptly thrown out! On our way home we encountered a car accident involving friends from our sister school and were able to render assistance (back in the days before lawsuits against good samaritans became S.O.P.).
Last week I willingly accepted an invitation to what Ken Kopp of The Dive Matrix refers to as the "SCUBA Prom." Most divers refer to the event as Chamber Evening, but it has all the atmosphere of a prom since I rarely see so many divers I know with their dress clothes on (vs in their wet or dry suits for those of my readers with warped minds!). It is held at the Aquarium of the Pacific (AoP) in Long Beach which donates the use of the facility for the evening. For the second year in a row I was invited as the guest of Alberto Mantovani, a member of the organizing committee and founder of DiveNav (creators of eDiving). Alberto created a computer-based dive simulation program that began with a chance to do virtual dives at Catalina's own Casino Point dive park, and has now evolved to include many other world class virtual dive destinations and expanded into a dive computer training tool used by SCUBA manufacturers. In addition to the DiveNav team and myself, rebreather guru Jeff Bozanic and his wife were the other members of our dinner table. I arrived a little late after joining a group of divers at the Mai Tai Bar across the street where Debbie Karimoto, founder of Orange County Diving News and another member of the event organizing committee, treated me to a drink in celebration of my new granddaughter.
Committee chairperson Ken Kurtis greeted me at the door as he does every attendee. This year I had a brief opportunity to view some of the Aquarium's exhibits in between greeting and chatting with so many of the divers I know who attended the event. I always love socializing with divers, both at our dive park and events like this. It is such a welcome relief from sitting in front of my computer screen editing all my underwater video. Some day it may even introduce me to the dive buddy of my dreams! The sit down dinner is held in the Great Hall at the Aquarium, with a full size model of a blue whale "floating" (on wires) directly overhead... so we all had a whale of a time! However Chamber Evening is not just a chance to socialize, it is an another opportunity for SoCal divers to give back to the infrastructure we depend on... and specifically to Catalina's own hyperbaric chamber located at USC's facility near Two Harbors. The USC hyperbaric chamber operates largely through funds raised by this event and the Avalon Harbor Clean-Up, assistance from the many volunteers who man the chamber and the dedication of Karl Huggins who oversees it.
Chamber Evening is actually just one part of a full day event to raise funds, the largest single-day SCUBA charity event in the United States. During Chamber Day, divers from throughout the region sign up on at least a dozen dive boats from the SoCal mainland to come out to Catalina, dive for the day, and receive a tour of the chamber. Most of the money ($90 out of $120) paid for diving on the boats becomes part of the funds raised. Divers who have unfortunate conflicts such as real jobs can sign up for the Flying Dutchman mythical voyage and their $90 fees contribute significantly to the total raised. There is also the Chamber Challenge where divers (at least those with real jobs) can donate directly to the moneys raised. This year (as was the case last year) tech instructor Michael Kane led the pack with a $10,000 donation. Of course being a dive bum, I didn't even earn that much last year! Divers can also buy raffle tickets to win a number of great prizes both during the day and at the evening event... but of course my string of non-wins was kept intact this year!
This year the event raised $117,000 to help support the operations of our island's facility. This is a remarkable figure given the state of the global economy! The USC chamber is one of the only such facilities dedicated to treating diving injuries such as the bends. Others are often affiliated with hospitals and are used primarily to treat burn victims and others needing hyperbaric treatment. The total operating budget for the USC chamber is about $180,000 so funds raised during this single day provide a substantial portion of the annual costs. The rest comes from a grant from Los Angeles County, half the net proceeds from the Avalon Harbor Clean-Up and other sources.
I would not even consider undertaking some of the intense and potentially risky (calculated of course) diving I've done in the past few years were it not for the presence of the chamber on our island. My repeated plunges to depths of 200 feet on air to film "deep ecology" for my cable TV show is a good example. I would never consider such descents if I were out on some remote South Pacific island where a ride to the nearest chamber could take many hours, if one was in the region at all. It gives me an added sense of security should something happen. Fortunately in nearly 50 years of diving, the only "rides" I've taken in any chamber have been during tours of the facility. However, it is good to know it is close by, and has saved the lives of a number of divers not so fortunate as myself. Thanks to all the divers who participated in this event, and especially to the organizing committee, the participating dive boats and dive clubs, and corporate sponsors such as Alberto and the DiveNav team that sponsored little old me.
© 2010 Dr. Bill Bushing. Watch the "Dive Dry with Dr. Bill" underwater videos on Catalina Cable TV channel 49, 10:00 AM and 5:00 PM weekdays and on Charter Communications Cable channel 33 at 7:30 PM on Tuesdays in the Riverside/Norco area. Please help me climb out of self-imposed poverty... buy my DVD's (see this link). Yes, take Dr. Bill home with you... we'll both be glad you did!
To return to the list of ALL of Dr. Bill's "Dive Dry" newspaper columns, click here.

Divers entering the Aquarium of the Pacific in their "prom attire," a bird's eye view of the dinner tables;
Ken Kurtis and Karl Huggins holding the $117,000 check (photo courtesy of Ken Kopp),
and the inside of the USC hyperbaric chamber taken during one of my tours of the facility.
This document maintained by Dr. Bill Bushing.
Material and images © 2010 Star Thrower Educational Multimedia