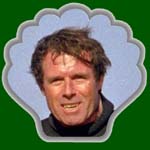 Dive Dry with Dr. Bill
#388: The SCUBA Show
May is one of my favorite months in the year, and not just because my granddaughter was born in it. The month is full of wonderful SCUBA-related activities. I wrote recently of the "Scuba Prom," aka Chamber Evening. About a week later, events associated with THE SCUBA Show in Long Beach began with a visit from none other than the fearless leader of Scubaboard.com, the largest SCUBA-related board in the world with well over 100,000 members.
Pete "NetDoc" Murray and a group of divers from the Board joined me out here at the Dive Park for a day of diving. Unfortunately he had bruised three ribs trying to play cowboy riding some silly horse on a ranch and couldn't dive. I had punctured my ancient ScubaPro Trav-Tek wing the previous weekend and had to rearrange my gear before I could descend. While the rest of the group submerged, Pete and I sat on the wall with occasional dive buddy Annie Gilman and chatted about... diving (what else?). Pete dives all over the world by invitation from the many groups associated with ScubaBoard. Dr. Bill dives all over the dive park since his funds are drying up and no one has offered him a pre-paid ticket anywhere but the SoCal mainland (and that one was one way)!
The day of diving was great fun, as was lunch at Antonio's where Brad Lincoln entertained us by creating various balloon "thingies." Dave Bower and I shared my favorite pizza (Canadian bacon, pineapple and sausage... thanks, Dave). Then the group left to return to Long Beach where I joined many of them the next day. Show activities began with a dinner meeting of California Ships-to-Reefs folks including CSTR President Joel Geldin and Ships to Reefs International Chairman, and founder of DUI (Diving Unlimited International), Dick Long and his wife Bonita. Unfortunately I couldn't attend the Roddenberry Dive Team's pre-show dive trip Friday, so I missed meeting the lovely Kelly Hu who was the guest celebrity diver that day.
Saturday the exhibit hall at the Long Beach Convention Center opened for THE SCUBA Show created by Dale and Kim Sheckler, publishers of California Diving News. This year three of "my" videos were shown in their film festival, two featuring footage from night dives at Casino Point and "Blue Boat Home" created by the Catalina Conservancy using my underwater footage. I never had a chance to see the other films as we were on a mission Saturday. Joel, Dick and I talked to as many environmental organizations as we could to get feedback on any environmental aspects of artificial reefing. We even spoke with my old "dive buddy," the artist Wyland, who agreed to work with CSTR on a mutual fund raiser that should be very exciting!
My feet were sore by the end of the day, but we had places to go and people to see. First stop was at the three Truth Aquatics dive boats from Santa Barbara for wine, clam chowder and other tasty goodies. Time for munching! The first person I spotted on board was none other than Avalon's own Tommy Cappanelli, able captain of the Vision. We spent a fair bit of time catching up before I rejoined Joel, Dick and the ladies. Following that event, Joel, Jeanne and I headed to Rod Roddenberry's Dive Team party nearby. It was a great evening with many friends from the San Diego area up to Santa Barbara, including Annie Crawley who serves with me on the advisory board of Oceanic Defense and produces wonderful videos about marine life and ecology for children.
Sunday was my day to explore the Show for the many dive travel bargains as well as to touch base with so many of my friends in the dive industry. A primary goal was to meet a lovely and highly proficient technical diver, a friend of mine from Facebook that I hope to make a future dive buddy. Of course since we're both largely solo divers, our dives "together" will be "same day, same ocean." I finally found her as I was chatting with all the folks at the ScubaBoard booth. After we chatted, I stopped by Rod's booth and spoke a bit more about the environmental aspects of sinking ships. He then invited me to be the Team's guest celebrity diver (Kelly Hu and I have something in common!) for a day of diving at Gull Island off the western tip of Santa Cruz Island. Last September I did the same during the Team's dive trip to remote San Miguel Island where we were surrounded by blue and humpback whales on a day of unusually calm water. And I can't forget to mention I finally met four of Sandy Eggo's Scuba Diver Girls... a great group for you lady-go-divers down south of Lost Angeles to join up with.
As always, the Show was great fun and a big success. By the end of the day I had picked up enough travel literature and equipment brochures to serve as an anchor on my walk back to Joel's. Pete had asked me to join the ScubaBoard group for dinner, but my energy had been sufficiently sapped by then. Joel, Jeanne and I were all pooped after the long weekend. All three of us went to bed shortly after 8:00 pm. I didn't even bother taking my clothes off, but lay on top of the down comforter. I did notice something hard in the bed, but didn't realize it was my camera I was sleeping on until I woke up the next morning!
I am learning that it takes more than "loose lips" to "sink ships." California Ships-to-Reefs wants to do it right, with full consideration of the environmental issues that need to be addressed. It will be my responsible as chair of CSTR's Environmental Committee to ensure we do the research necessary to accomplish this, and gain the support of environmental organizations for these projects. And that is in addition to my work as a project leader for our proposed sinking of a substantial vessel or two right here off Catalina Island. The presence of real wrecks (and not just Lynn Stokes' "Pisces" in the dive park) will help make Catalina a mecca for technical and recreational divers and bring new visitors from around the world to discover our island in addition to what is beneath its waters.
© 2010 Dr. Bill Bushing. Watch the "Dive Dry with Dr. Bill" underwater videos on Catalina Cable TV channel 49, 10:00 AM and 5:00 PM weekdays and on Charter Communications Cable channel 33 at 7:30 PM on Tuesdays in the Riverside/Norco area. Please help me climb out of self-imposed poverty... buy my DVD's (see this link). Yes, take Dr. Bill home with you... we'll both be glad you did!
To return to the list of ALL of Dr. Bill's "Dive Dry" newspaper columns, click here.

Team ScubaBoard at Casino Point pre-Show, Dr. Bill and dive buddy Wyland as he paints the 14 ft great white shark
we saw off Catalina; Dr. Bill and future warm water dive buddy, the lovely Valentina Lomborg, the ScubaBoard booth
with Elena Rodriguez, fearless leader Pete "NetDoc" Murray, Moonie and a real live "mermaid" from SCUBA Radio.
This document maintained by Dr. Bill Bushing.
Material and images © 2010 Star Thrower Educational Multimedia