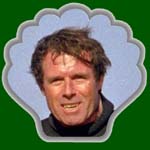 Dive Dry with Dr. Bill
#402: Cousteau Family Camp
Back in June I received an e-mail from my old friend Jean-Michel Cousteau saying that he had a few ideas to share with me. We hoped to meet up at his Ocean Futures office in Santa Barbara when I went up there to dive the northern Channel Islands. However, the BP oil spill in the Gulf of Mexico took him out of town a lot, and we could never find a mutually convenient date. Since he would be on the island in August for the Cousteau Family Camp, we decided that would be the best time to get together.
The day I was to drive down there, I couldn't start either of Packy's vehicles.. and, of course, the "Dr. Bill Mobile" golf cart is not interior legal. I finally managed to get his 1976 Jeep running some four hours later, and decided to postpone my trip to Howland's Landing until the next day. I was off and running by 9:00, electing not to take my dive gear since most participants in the Family Camp snorkeled. Unfortunately that was a mistake as I could have squeezed in a dive and the conditions looked fabulous
My drive through the island's interior was a cherished experience. Beginning back in the late 1960s on through 2000 I spent much of my time out there teaching field-oriented science classes for my students at Toyon, as well as exploring the island in my old M38A1 military jeep. Fortunately in those days the school paid for my gas and it was under $0.50 per gallon... a bit above my hourly pay at the school. This time it took $45 of gasoline just to get to Howland's and back! Every turn in the road brought back old memories and I actually teared up a few times thinking back on some of them. I'm sure island residents both old and new have similar emotional reactions when driving, hiking or biking out there.
I arrived at the Camp just as Jean-Michel was taking his shower after snorkeling with the participants. Before going over to him, I ran into Pam Stacey and then Dr. Richard "Murph" Murphy. I had worked with both of them on the early Cousteau Project Ocean Search programs back at Toyon in the 1970s so it was a nice opportunity for a reunion. Later I worked with them and Jean-Michel on several other projects, including the 1985 two hour documentary about the Channel Islands for TBS. Later, I introduced Jean-Michel and Murph to Packy and they became members of the Conservancy board of directors, providing great input to the organization during their eight year tenure.
Back in the late 1980s we tried to get Jean-Michel an island base of operations at Emerald Bay. I went out to Santa Cruz Island to meet with them about this (and do some diving as well). Unfortunately island "politics" came into play and the opportunity was lost in a storm of negative publicity. Some day I'll tell "the other side of the story." Finally back in the late 1990s we were able to establish a cooperative arrangement between the Catalina Island Camps or CIC (http://www.catalinaislandcamps.com/docs/cic_home.htm) located at Howland's and Jean-Michel's Ocean Futures organization (http://www.oceanfutures.org/). This year was the 13th season for the Cousteau Family Camp at that site.
Jean-Michel, "Murph" and the Horner family of CIC have done some great things at Howlands. Not only is the CIC run out of that facility, as it has been since 1926, and the Cousteau Family Camp, but another joint venture called CELP between the two has created a model for all camp and cove operations here on the island. CELP stands for Catalina Environmental Leadership Program. This program is an outdoor education experience offered to students in grades four through twelve. Participants learn not only about our unique kelp forests and their critters, but how to lessen the impact of their daily lives on the environment around us.
Campers can experience functioning programs that recycle wastes, including composting organic materials for use in the organic garden that helps feed them. One of the signs that caught my eye asked when you throw trash "away," where is "away." It was intended to make participants aware of what happens to the "trash" they dispose of, and would be a good lesson for us here in Avalon. Fortunately our trash gets recycled by Seagull Sanitation, but we need to go to much greater lengths to actually reduce the stream of goods coming onto the island that create tons of unnecessary trash, especially the plastics.
Two of the personality traits I've always respected about Jean-Michel are his approachability and the way he "walks the talk." Here I am a starving dive bum, yet he gave me nearly three hours of largely one-on-one time to talk not only about future programs for the island and the Water Planet we could work on together, but also what was going on in my personal life (not much!). When a young participant walked up to him and asked him to tie his shoe, Jean-Michel didn't bat an eye and tied it while talking to the boy. As for "walking the talk," a yellow jacket flew into Jean-Michel's juice glass as we sat. Rather than toss it out or kill the insect which was only seeking sustenance, Jean-Michel carefully lifted the yellow jacket out of the juice with his fork before it drowned, allowed the wings to dry off and then sent it off in flight.
As for the ideas we talked about, some related to Catalina and others to the global picture. Jean-Michel has always been aware of Catalina's uniqueness so close to what he refers to as "the human tide" of "Lost Angeles" (my phrase, not his). He is aware that we have a story here on the island worth telling to the world, and feels we need a greater presence on the Internet. He suggested Catalina develop an underwater and a terrestrial web presence that can demonstrate what we have to offer to the global Internet audience. Back in the mid 90s I introduced the Conservancy to the web and developed its first web site while he was a board member.
We also talked about a tie-in between Oceanic Defense (http://www.oceanicdefense.org/) on whose advisory board I sit and his Ambassadors of the Sea program, specifically in the Cayman Islands where Oceanic Defense is based. I'm helping to arrange a meeting of the heads of O.D. and "Murph" when he is out there in December. If I can rob our local bank enough times before then, maybe I'll join them!
By the time we had to wrap up our dinner conversation, it was getting dark and time for me to head back to Avalon. I would have loved to stay as it was "no talent" skit night, something I had participated in decades ago during the programs at Toyon. During one in the 70s, several of us wrapped ourselves up in sleeping bags pretending to be sea cucumbers. Then when someone poked at us, we "spewed" bed sheets out the opening to imitate sea cucumbers spilling their guts (known as eviscerating to us scientists)! I was asked to join in the fun, but thought it best to navigate the winding island roads while I was still awake! And so another great memory was established here on the island, with a few new options for future involvement.
© 2010 Dr. Bill Bushing. Watch the "Dive Dry with Dr. Bill" underwater videos on Catalina Cable TV channel 49, 10:00 AM and 5:00 PM weekdays and on Charter Communications Cable channel 33 at 7:30 PM on Tuesdays in the Riverside/Norco area. Please help me climb out of self-imposed poverty... buy my DVD's (see this link). Yes, take Dr. Bill home with you... we'll both be glad you did!
To return to the list of ALL of Dr. Bill's "Dive Dry" newspaper columns, click here.

Collage of Cousteau Family Camp images, teach your child(ren) well; Pam Stacey, Jean-Michel and
myself fooling around at POS in the 70s, the three "Sea Mouse" 'kateers today.
This document maintained by Dr. Bill Bushing.
Material and images © 2010 Star Thrower Educational Multimedia