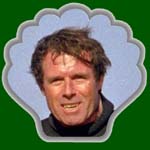 Dive Dry with Dr. Bill
#403: Air Octo!
The basketball fans who read my column are undoubtedly familiar with the phrase "Air Jordan." Being Chicago born and raised, I was a big fan of the Bulls in Michael Jordan's day... but transferred my allegiance to the Lakers in large part due to Herbie Sadd's enthusiasm for the team and Kobe, and my respect for Phil Jackson. Some of you may also be familiar with the phrase "Air Jaws" if you watch the rather sensationalized "Shark Week" on the Discovery Channel. As one who has dived with sharks around the world, including great whites, I've boycotted it since it began. Of course I no longer have TV anyway so that's easy to do. This week, I'm going to tell you the tale of a little known phenomenon I call "Air Octo."
During summer, when the dive park is filled with classes, I prefer to do my diving at night mid-week to avoid the crowds. Of course I love going down there to socialize with the divers, but resuspended silt, reduced visibility and crowded stairs are not my cup of Celestial Seasonings. A while back I went down to the park about 8:00 pm and ran into "Diver Dave" Lieberman and a client of his preparing for a night dive. We chatted a bit and Dave asked a prophetic question "Where is your pony bottle?" As a solo diver for six decades, I normally carry a small SCUBA tank (pony) as a backup, but had just repaired the mounting strap for mine and hadn't reattached it to my main tank. I rarely go deeper than 50 ft on my night dives and know from experience that I can do a controlled ascent from much deeper should an emergency arise.
I descended ahead of Dave and despite surgy conditions, I found several subjects to film right away. Looked like this would be a great dive and I would bring back fascinating footage to share with my readers and the viewers of my cable TV shows and DVDs as they "dive dry with Dr. Bill" in their easy chairs. The unseasonably cool water temperatures have meant higher than normal nutrients, allowing our native giant kelp to remain healthy and very dense instead of dying off due to nutrient starvation in summer. This has made it harder to find critters to film this summer.
About 12 minutes into the dive, I spotted an octopus climbing up a giant kelp plant like Jack on the bean stalk. It was being pestered by several kelp bass that were obviously hoping for a little octo (tako in Japanese) sushi or sashimi for dinner. I started filming the octo as it climbed but the surge was moving the kelp around and wrapping it up, making it difficult to keep the octo in my viewfinder. Several kelp bass lunged toward it, trying to munch on one of its arms (the correct term for what some call "tentacles").
Suddenly it shot off the kelp into midwater and I spun around to locate and film it. I was extremely lucky to do so almost immediately. In less than two seconds, the octo reoriented itself in the water column and jetted off into the dark void beyond the reach of my video lights leaving a cloud of obscuring ink to obscure its destination from the kelp bass. Now I've filmed octos as they jetted off above the bottom, seeking shelter from potential predators... or even me. After all, I learned to love octopus as a menu item during the month I was in Greece many decades ago. But this was a pretty spectacular event to film and share with my readers. Hence the tale of "Air Octo."
If you look at the image in the upper right, you can detect a white spot on the arm at the lower right of the cephalopod. It appears one of the kelp bass did get a small bite of the octo, which may have triggered its abrupt departure. I have watched as a group of kelp bass tore apart a dead octopus in the dive park, and several garibaldi did likewise with one at Ship Rock. Although they are a bit "rubbery," they are obviously a favored entree for fish (including our giant sea bass)
Shortly after my "Air Octo" encounter, I settled down at 35 feet to film a moray and a kelp bass both vying for some tasty blacksmith. They were also taking nips at one another, and I wanted to film the competition. As I waited, I noticed my regulator was not delivering air as easily as it should. Heck I had been in the water just over 16 minutes and knew a full tank would last me at least 60-70 minutes given my anticipated dive profile. My mind focused on the filming instead of the warning sign.
Finally I adjusted my regulator to increase the air flow. That didn't help, so I shined my video light on my SPG (air pressure gauge) and found the tank read as close to zero... zilch... nada as my aging eyes could detect. For the third time in my nearly 50 years of diving, I was unintentionally OOA (out of air). Apparently the tank had not been filled, and my dive lasted only as long as the 600 psi I had left in the tank after the last dive allowed. Fortunately I was able to do a very slow and controlled ascent to the surface and a surface swim back to the dive park stairs. You can bet my pony bottle will be mounted back on my main tank for the next dive! One should never get too complacent when diving no matter how many decades they've submerged. Next time I'll follow protocol and check my SPG before I descend.
© 2010 Dr. Bill Bushing. Watch the "Dive Dry with Dr. Bill" underwater videos on Catalina Cable TV channel 49, 10:00 AM and 5:00 PM weekdays and on Charter Communications Cable channel 33 at 7:30 PM on Tuesdays in the Riverside/Norco area. Please help me climb out of self-imposed poverty... buy my DVD's (see this link). Yes, take Dr. Bill home with you... we'll both be glad you did!
To return to the list of ALL of Dr. Bill's "Dive Dry" newspaper columns, click here.

"Air Octo" in mid-air (er, water) after shooting off the kelp; ink cloud emerging as octo jets off
and the final frame showing the cloud obscuring my view... and that of the kelp bass!
This document maintained by Dr. Bill Bushing.
Material and images © 2010 Star Thrower Educational Multimedia