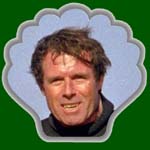 Dive Dry with Dr. Bill
#408: Truly Diving Dry with Dr. Bill... and Deep!
Soon after you read this column, I will be somewhere between the ocean's surface and 900 feet down in the waters off Catalina Island. The pressure around me will be nearly thirty times that of the atmosphere on Front Street if we reach maximum depth. Assuming that does not crush us (and I have little fear it will), I will be truly "diving dry" on my very deepest dive ever. No. I'm not going to wear my "holy" drysuit, or even one of my "holy" wetsuits on this dive. I'll be dressed in street clothes and won't even have a regulator in my mouth. Next week I will be diving in Ocean Gate's submersible "Antipodes" as a part of "Expedition Catalina."
Contrary to my usual practice of diving solo, I will have plenty of dive buddies! They will include Scott Cassell, underwater explorer and the brain child of this expedition, who will operate the Antipodes. We will be accompanied by one of the lucky students who won a contest to participate in this exploration of uncharted territory around our island. I'll be carrying two video cameras so I can share what we see with my readers and the viewers of my cable TV show. Since my "trusty" Sony HDV camcorder failed two months ago, I had to buy a new CX550V for this once-in-a-lifetime experience. Originally I was supposed to dive on September 30th with Louis Sahagun, a Los Angeles Times reporter I've worked with in the past on news articles about the Marine Life Protection Act (MLPA), but the story's focus changed so I had to wait for my scheduled week.
Scott Cassell came up with the idea of using a submersible to explore the life at such depths, and created the Undersea Voyager Project (UVP) that includes Expedition Catalina. Eventually he will explore the oceans at a number of locations around the world. Although I had not met Scott until two months ago, I knew of his work with the Humboldt squid in the Sea of Cortez and with many species of sharks. He states he is not a scientist, but Scott's work as an underwater explorer, commercial diver and filmmaker has led to many interesting discoveries about marine life. Scott chose Catalina for the first UVP expedition because he had lived on the island and dived our waters, and thus knew the opportunity the island presented. He also felt Los Angeles' large concentration of school students would benefit from the work here given our proximity. The mission of UVP and Expedition Catalina is to support the work of scientific researchers like myself, actively involve "citizen scientists" in the process and promote educational opportunities for school aged children including ones from our own school in Avalon.
After my meeting with Scott and Ocean Gate's Guillermo Söhnlein and Joel Perry, I was asked to submit a list of research ideas for possible inclusion. I sent them to Elizabeth Keddy, the scientific coordinator for Ocean Gate. Since I am a kelp forest ecologist, I naturally wanted to see how much detached and sloughed off kelp sank down to these depths to provide food for the critters there. In these dark waters few algae can survive to create "munchies" and critters must rely on what falls down from the upper layers. I also wanted to see what algae (seaweeds) could survive at great depths where there is little light for photosynthesis. I have seen some really beautiful red algae like Maripelta rotata at depths of 180-200 ft.
However, back when I was vice president of the Conservancy, I learned that most people just don't get basic ecology... the fact that plants or algae are fundamental to the functioning of almost all ecosystems, land or sea. Therefore, I added a few critter-based ideas such as looking for giant sea bass which are said to seek deeper waters in the fall after their courtship and mating period. I also thought it would be neat to see if we could locate any whale skeletons. Their decomposing bodies form "biological islands" on the ocean floor for scavengers and decomposers. Of course I'll also be looking for any mermaids since there will be no influence from nitrogen narcosis... perhaps Jacqueline Bisset will magically appear out of "The Deep." Just in case, I viewed that movie this past weekend. Sigh.
Finally I came up with some general environmental issues. A few years ago I watched U. S. Navy divers bringing up a number of discarded bottles from depths of 500 ft near Avalon. I thought it would be important to film the debris in the deep waters off the island, including plastics that take centuries to fully degrade. I also wanted to locate some of the deep fishing holes I used to catch sand dabs and rock cod in back in the 70s to see how impacted they were by suspected overfishing. A related topic was the location of "ghost" (abandoned) fishing gear and uncharted wrecks in our waters. Perhaps we could even find the Spanish galleon that Jacques-Yves Cousteau said was located off Ship Rock. Now that could finance all the projects Scott, Ocean Gate and I could come up with! Again, shades of "The Deep."
Scott teamed up with Ocean Gate, owners of the Antipodes, for the UVP and Expedition Catalina. The submersible was built in 1973 and initially operated in the oil fields of the North Sea when known as the PC-1501. Twenty two years later it was rebuilt, renamed the XPC15 and operated off a 200 ft. vessel known as the Mystere. In 2001 it was again modified and launched as the Antipodes. At that time it was operated by Submarine Adventures and took thousands of tourists on deep dives in Milford Sound, New Zealand. The submersible is certified by the American Bureau of Shipping, and has safely done over 1,200 dives including ones in rough ocean conditions. It can carry an operator and four passengers with typical dives varying from two to eight hours and life support systems for up to 72 hours.
The vessel is 15 x 7 1/2 x 8 feet and would easily fit in my living room... except that it would add another hole in my ceiling to the ones caused by my upstairs neighbor's leaking deck. Heck, I get wet even when I'm sitting in my living room. However, I doubt our building would support its 14,000 pounds... I'm much lighter than that (so far)! Six two hp thrusters are used to maneuver the sub on all three axes with a cruising speed of 1 knot and a maximum speed of 3 knots.
When I first heard about "Expedition Catalina," I was hopeful that I might get one chance to dive in it and see the critters that live below my "basement depth" of 200 feet on SCUBA. Never did I imagine I would be granted a week of dives as one of the "mission scientists" involved in the project. This will certainly be a chance to check off one of my "bucket list" items, and I'm very excited to have an opportunity to share what we see with others. It has always been one of my many missions (no, I'm not a modern day Junipero Serra) to share the underwater world with those who don't see it firsthand.
Once this adventure is under my (weight) belt, I'm hoping movie director and explorer James Cameron will take notice. He is currently building a submersible that will descend to the deepest known point in our Water Planet's oceans... the Mariana Trench. Cameron will use his dives in this submersible to prepare a sequel to his wildly popular movie "Avatar." I'd sure love to see and film the critters down at about 36,000 feet (seven miles). No one has been down there since 1960 when Jacques Picard and Don Walsh, a fellow staff member on Cousteau POS Catalina programs with me in the 1970s, descended in the bathyscaph Trieste. Heck, I didn't even start SCUBA diving until the following year!
© 2010 Dr. Bill Bushing. Watch the "Dive Dry with Dr. Bill" underwater videos on Catalina Cable TV channel 49, 10:00 AM and 5:00 PM weekdays and on Charter Communications Cable channel 33 at 7:30 PM on Tuesdays in the Riverside/Norco area. Please help me climb out of self-imposed poverty... buy my DVD's (see this link). Yes, take Dr. Bill home with you... we'll both be glad you did!
To return to the list of ALL of Dr. Bill's "Dive Dry" newspaper columns, click here.

Dr. Bill "diving dry" as seen through the port of the Antipodes... but what's that on my right? Gulp!
This document maintained by Dr. Bill Bushing.
Material and images © 2010 Star Thrower Educational Multimedia