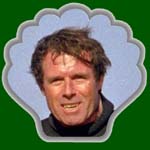 Dive Dry with Dr. Bill
#414: The Water Turkey
Well, with turkey day upon us I thought I'd write about a species with some relevance to that national celebration. No, I'm not thinking of the Thanksgiving turbot or any other fish for that matter. This week the bird is the word... and that bird is the water turkey! Yes, I realize many of my readers have no clue as to what I'm talking about, so I guess this column is like every other one I write. Allow me to "edumacate" you.
The last few weeks I've been in the sunshine state spending time with Mom, helping her with various plumbing and other household tasks... at least to the best of my limited ability! Yes, I'm talking Florida... more specifically Sarasota. The weather was so beautiful the first week that my friends from ScubaBoard canceled a planned shark tooth dive off Venice because of the cold. That's right, temperatures dropped into the 30s at night. Since that was my only planned dive during the visit, I spent plenty of time topside.
Now Mom lives in Pelican Cove, a condo development that is at once the largest in the State of Florida and also one of the most environmentally sensitive developments I've ever spent time in. You'd never know there were over 700 units because the developer retained so much of the original vegetation. Since the plants are still there, many of the critters are as well. Although I didn't see any of the panthers or alligators that have been observed close by, I did focus my lens on five manatees that live in the boat harbor below Mom's lanai and on the strange bird that I'd better start writing about before this column digresses any further.
The most obvious "angler" in the harbor was the water turkey, also called a snakebird or American darter. I've known this cormorant-like bird as the anhinga and have been intrigued by it ever since I began vacationing in the Sarasota area back in the 1950s. That name comes from the Brazilian Tupi language since species of anhinga are known from the warmer regions of the world including India, Africa, Australia and both Americas. The one I filmed, Anhinga anhinga leucogaster, is known from the southern United States, Mexico, Cuba and Grenada with a related subspecies (Anhinga anhinga anhinga) found in South America.
Although a rather large bird at an average body length of nearly three feet and wingspan of 45 inches, an individual water turkey that size weighs a mere three pounds. My Thanksgiving turkey from Vons is over 20 pounds... and it's all for me (unless you like wings, thighs and drumsticks). Burp! Of course I'll share the white meat with a lovely lady-go-diver should she appear.
After returning to the island, my research for this column revealed that I must have been filming a female. They have a pale gray-buff or light brown head, neck and upper chest compared to the male which is usually a glossy black green and black blue. Anhinga nest in trees, laying 3-5 light blue eggs that hatch in a month. The bald hatchlings develop a tan colored down in a few days followed by white in a few weeks. Juveniles are mostly brown until they first breed after their second or third winter.
Many birds including waterfowl like ducks often use oil secreted by their uropygial or preen gland, located near the base of the tail, to waterproof their feathers or keep them clean and dry. However some birds including the anhinga, cormorants and even the ostrich cannot, and their feathers become waterlogged when wet. Maybe those of the ostrich just become "sand logged." This helps the anhinga and cormorant dive longer by reducing their buoyancy, allowing them more time to search for their food underwater. They spear fish using their pointed bill, flip them into the air and down them head-first.
However, the lack of an effective preen gland makes it difficult for them to take flight quickly. Therefore both anhinga and cormorants are often seeing perched topside with their wings spread out in the sun to dry them. When they first emerge from the water, they really shake their tail (and other) feathers to cast off excess water. I found that this gave me a real edge in taking high def video of them. I'd wait til I saw the anhinga perched on one of the pilings or boats, and slowly approach it, edging closer to film but stopping if it seemed distressed. If I got too close, the anhinga would fly off into a tree across the water. However, one time it flew up... faltered... and landed back in the water. I guess its feathers weren't quite fully dry! Its behavior in the water... keeping its body low and its long, thin neck forward is what earned it the name snakebird.
© 2010 Dr. Bill Bushing. Watch the "Dive Dry with Dr. Bill" underwater videos on Catalina Cable TV channel 49, 10:00 AM and 5:00 PM weekdays and on Charter Communications Cable channel 33 at 7:30 PM on Tuesdays in the Riverside/Norco area. Please help me climb out of self-imposed poverty... buy my DVD's (see this link). Yes, take Dr. Bill home with you... we'll both be glad you did!
To return to the list of ALL of Dr. Bill's "Dive Dry" newspaper columns, click here.

Anhinga topside drying out its feathers; the head with its long, straight, pointed bill used for spearing fish
and flipping them into the air to swallow as seen in the lower right.
This document maintained by Dr. Bill Bushing.
Material and images © 2010 Star Thrower Educational Multimedia