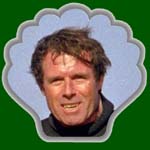 Dive Dry with Dr. Bill
#424: Out of The "Haze"
In the era of the 1950s when women were expected to get married, have children and become housewives, there were those who listened to a different drummer and pursued unique careers. I was reminded of one such lady on my visit to Sarasota, Florida, last November. I'm speaking of the woman known as "The Shark Lady," Dr. Eugenie Clark, who founded the Cape Haze Marine Lab back in 1955. She went on to become a world-recognized expert on sharks and other fish, and her laboratory became a center for marine research and education now known as Mote Marine Laboratory. I've known of Mote for decades, and on this trip was given a tour by Hayley Rutger of their PR department. I'll write of Mote itself in a future column.
When she turned 87 in 2009, Dr. Clark spent her birthday at a depth of 200 feet riding a submersible in Lake Tahoe. After turning 88 in 2010, Clark went diving with sevengill sharks off South Africa. She still actively conducts research. Her interest in marine life began at an early age when her mother would drop her off at the New York Aquarium on Saturdays while she went to work. Here she found her true passion. In 1942 she graduated with a degree in biology and intended to find a job as an ichthyologist, but World War II led her to take a job as a chemist. She continued her studies and received her Ph.D. in 1950.
Following the War, Eugenie did her first dives using a dive helmet (SCUBA had not yet been widely distributed) while at the Scripps Institute of Oceanography making her a true pioneer. The U. S. Navy sent her to survey the newly acquired islands of Guam, Saipan and Palau to catalog the poisonous fish in these waters. Then in the early 1950s she studied the fish of the Red Sea. Her experiences there led to writing her first book, Lady with a Spear. In 1954, after reading her account, William and Anne Vanderbilt (yes, those Vanderbilts) offered to fund a marine lab and the following year the Cape Haze Marine Lab opened in Placida, Florida.
Clark's early research there focused on assessing the intelligence of sharks. She devised a series of experiments to see if sharks could learn to ask for food when they were hungry. Within a few days her experimental subjects had learned to bump a target with their snouts to deliver a tasty morsel. During this time she also studied the sexual behavior of groupers and discovered that they could change gender in as little as 10 seconds! This interesting survival strategy allows an individual fish to mate with whatever it encounters in the ocean... as long as it is of the same species.
When a well-known movie, filmed in part off our island near Torqua Springs, appeared in 1975 and created a negative image of the great white, Eugenie was right there to defend sharks as something other than the "evil" beasts depicted by Spielberg's "Jaws." Unfortunately this movie triggered a killing spree against these much maligned fish. I remember those days well since my students went out to catch and kill blue sharks (back when they were abundant) until I put a stop to it.
Eugenie remained at Cape Haze until 1967 when divorce forced her to seek other work. From 1968 to 1992 Dr. Clark taught marine biology at the University of Maryland. During that time, the Cape Haze lab moved to Sarasota where it became the Mote Marine Lab. During her tenure in Maryland, she was a consultant for the lab and currently continues her research at Mote. Back in 2004 at the age of 82, Eugenie injured her Achilles tendon on a dive and doctors discovered she had lung cancer which forced her to stop diving. Fortunately the cancer went into remission and she was able to dive again to study her beloved finny friends.
One of Dr. Clark's current research interests is the convict fish from Papua New Guinea. Mom and I were able to observe a few of them in an aquarium at Mote. The adult fish hide in nooks and crannies in the reef while the "kids" swim about outside. When the youngsters return to the adult's hiding place, they are swallowed up and then spat back out! Although the exact mechanism is not yet known, apparently after feeding on plankton all day the young provide nourishment for their parents by regurgitating food! The interesting behavior of these fish has ben a research interest of Eugenie's ever since. Her other major projects now include studies of a poisonous marine catfish and of the relationship of sand-diving fishes with garden eels.
I've been fortunate to have had the opportunity to meet several of the true female icons in marine biology and SCUBA diving. Back in the 1970s I worked with Dr. Sylvia Earle ("Her Deepness") on early Cousteau programs and she later became a member of the board at the Catalina Island School (Toyon Bay) where I taught science. In an interesting coincidence, Sylvia had been chosen by Eugenie Clark to serve as the Cape Haze lab's interim director in 1966. I've sat on the wall at our dive park and talked with Zale Parry, who began diving in the early 1950s, went on dates with her future husband diving the waters off Catalina, set the woman's deep free diving record at 209 feet off our island back in 1954 (with live commentary provided by KBIG radio announcer Carl "Mr. Big" Bailey), and was probably best known by non-divers for her work with Lloyd Bridges on the TV show "Sea Hunt." Hopefully I'll meet Dr. Clark on a future trip to Sarasota.
A few months ago I began a relationship with my very own "shark lady..." (OK, she likes whales and dolphins too) and we are working together on a campaign to educate people about these species and the need to protect them for the future health of the oceans. I only hope I can dive into my 80s like Dr. Clark and continue to experience the fascinating world beneath the sea... perhaps in warmer waters by then!
© 2011 Dr. Bill Bushing. Watch the "Dive Dry with Dr. Bill" underwater videos on Catalina Cable TV channel 29, 10:00 AM weekdays and on Charter Communications Cable channel 33 at 7:30 PM on Tuesdays in the Riverside/Norco area. Please help me climb out of self-imposed poverty... buy my DVD's (see this link). Yes, take Dr. Bill home with you... we'll both be glad you did!
To return to the list of ALL of Dr. Bill's "Dive Dry" newspaper columns, click here.

Dr. Eugenie Clark signing a copy of her book and the cover of Shark Lady.
This document maintained by Dr. Bill Bushing.
Material and images © 2011 Star Thrower Educational Multimedia