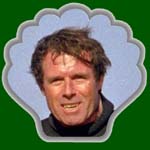 Dive Dry with Dr. Bill
#431: Catch a Wave... Not!
I doubt there is a person in southern California who is not aware of the tsunami caused by the huge earthquake off Sendai, Japan, recently. The outpouring of support for the Japanese people enduring the triple whammy of earthquake, tsunami and nuclear radiation is a reassuring expression of our common humanity. The few extremists who viewed this as "pay back" for the killing of whales and dolphins have been drowned out by those more sensible and understanding. We in southern California should view this devastation with a feeling that "there but for fortune go you or I" to quote the lyrics of one of my favorite protest singers from the 60s, Phil Ochs.
I've known about tsunamis or "tidal waves" since my junior year in high school when, in 1964, a 9.0 magnitude earthquake in the Prince William Sound region of Alaska triggered the most massive one to hit the West Coast in recorded history. According to Rudy Piltch, the effects were felt here on Catalina especially down at Two Harbors. Although it was huge, that tsunami did not create the largest "tidal wave" recorded in the eastern Pacific. Those honors go to a much smaller 1958 earthquake event in the Panhandle of Alaska. That event triggered a landslide of some 40 million cubic yards of rock that fell from an elevation of about 3,000 feet. The tsunami wave the landslide created funneled through tiny Gilbert Inlet and tore out all trees and other vegetation to an elevation of 1,720 feet!
The only tsunamis I've experienced while living here on the island were very minor events, including the one triggered by the recent Japanese earthquake. Although they traveled across the Pacific Ocean at speeds as high as 550 mph, the amplitude of the wave in the open ocean was very small. It isn't until it hits shallow water that the wave energy begins to break and become disastrous. I was standing out on the Pleasure Pier during one a short time ago, and the rise in sea level wasn't perceptible to my eyes (even with glasses).
However, these events are powerful and I've had some experience with what they can do. Back in 2001 I was diving my way around the Pacific Ocean on a three month backpacking trip. One of my favorite stops was the island of Koh Phi Phi in southern Thailand. The island was made famous in the book The Beach, later made into a movie starring Leonardo DiCaprio. It was a beautiful place, made even more so by the lovely Dutch divemaster Dieke with whom I did most of my diving. We even took a "longtail" boat out to Maya Beach and Pileh Bay where the movie was filmed
The town I was in reminded me very much of Two Harbors... located in a low saddle between two mountainous slopes. On one side was Ton Sai Bay and on the other Loh Dalam Bay. At the time I thought it was the "perfect" place for a tsunami disaster since a wave could role in on one side of the town, pass right through and exit on the other side. Unfortunately, three years later, that very thing happened and most of the town including the largest hotel was leveled. The dive shop I dove with was washed out to sea. Although 700 people on Koh Phi Phi lost their lives, the "aboriginal" fishing people (the Moken or "sea gypsies") on other islands sensed the tsunami was coming and went up to higher ground, thus escaping its effects. The elephants in the region also sought refuge at elevation and none died.
A dive friend of mine living in Singapore, Akiko, happened to be diving off Banda Aceh, Indonesia, when that tsunami hit there. As she told me several years ago, they experienced nothing significant while diving out in the open ocean near some small islands. However, as the boat approached the town, they began to see dead bodies and debris floating in the sea. Fatalities in Indonesia related to this tsunami numbered about 170,000 people.
Now, I'm an optimist and generally don't look at the dark side (like Darth Vader or DIR divers do) of life. However, we on Catalina may be largely immune from tsunamis coming across the Pacific from the west... but face the possibility of a much more disastrous event coming from "the other side." We all know California is a region of seismic activity. A massive earthquake like "the Big One" could generate a tsunami that would impact our leeward shore includinng Avalon. It is one of many reasons I bought my home up on a hill outside the flood plain of "the Flats." Fortunately most of the major faults in our region are further inland, and may not generate the kind of tidal wave felt in Japan.
How would we deal with such an event? I checked with the Harbormaster's Office and Mayor Bob and the City does have a tsunami emergency plan. It is overseen by the City of Avalon Fire Department. It might be a good idea for residents to familiarize themselves with it, simply as a precaution. Perhaps the City could put a digital copy of it on its web site for us to look at as well as a hard copy in the library. What are my plans? If my timing is excellent, I hope to be diving in the Red Sea, the Philippines, the Galapagos or just about anywhere other than southern California! If I am in the dive park, I could get my butt kicked! If it happens at night, I hope to be either in one of those remote dive spots... or asleep in my bed at high elevation!
© 2011 Dr. Bill Bushing. Watch the "Dive Dry with Dr. Bill" underwater videos on Catalina Cable TV channel 29, 10:00 AM weekdays and on Charter Communications Cable channel 33 at 7:30 PM on Tuesdays in the Riverside/Norco area. Please help me climb out of self-imposed poverty... buy my DVD's (see this link). Yes, take Dr. Bill home with you... we'll both be glad you did!
To return to the list of ALL of Dr. Bill's "Dive Dry" newspaper columns, click here.

The village in the saddle on Koh Phi Phi Don which the 2004 tsunami devastated.
This document maintained by Dr. Bill Bushing.
Material and images © 2011 Star Thrower Educational Multimedia