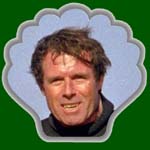 Dive Dry with Dr. Bill
#440: The California SCUBA Service Award
In early April I received an e-mail from Kim Sheckler, who with her husband Dale and their family publish California Diving News and put on the annual SCUBA Show in Long Beach, one of the largest consumer-oriented shows in the country. I read their publication regularly and the SCUBA Show is one of the premiere events of the year for me. But when I read her message, I had to reply to ask "Is this an April Fools' Joke? Did someone hijack your e-mail account and send this to me?"
Kim had informed me that I was to receive the prestigious 2011 California SCUBA Service Award at the Show. I was shocked. Never did I think I might be the recipient of this award given the previous honorees. It was created in 1989 to recognize those that have made long-term positive contributions to the California sport diving community. For example, last year's winner was my Catalina great white shark dive buddy, Wyland, whose whale and marine murals grace buildings all over the world. Kim assured me the e-mail was correct, and she and Dale confirmed it when I saw them on the streets of Avalon a few weeks later.
Rather than dwell on what I've done to earn this incredible recognition (after all, that would barely fill a paragraph), I'd like to acknowledge some of the previous winners, especially those with strong links to Catalina Island. In 1990 Dr. Andy Pilmanis, director of the hyperbaric chamber at Two Harbors, was the second winner for his research into decompression sickness and advocacy of safety stops that are now a "mandatory" part of recreational diving. In 1993 Roger Hess received it for helping to form the NAUI certification agency. He later created one of the primary mechanisms to maintain funding for our hyperbaric chamber which grew into the current Chamber Day and Evening fund raiser. Ken Kurtis of Reefseekers, winner in 2002, carries on this tradition and is also a forensic consultant in dive injury investigations for Los Angeles County.
In 1994 Bob Meistrell, co-founder of Body Glove and Dive 'n' Surf, received the award for the invention of a practical wetsuit for SCUBA diving. Bob taught Lloyd Bridges of "Sea Hunt" fame to dive and was a member of the board for the Catalina Conservancy Divers. On his 81st birthday he celebrated by diving to 200 ft... I hope I can still go half that depth on my 81st! The 1997 winner, Dick Long of DUI drysuits and a founding member of Ships to Reefs International, was also largely responsible for the sinking of the Yukon destroyer in San Diego and has been very helpful in giving guidance to our efforts to sink a large vessel out in Catalina waters.
In 1998 Steve Madaras, co-owner of Catalina Scuba Luv and a leader in the effort to educate about and protect giant sea bass, was the recipient. Then in 2001 Lorraine Sadler won it. She is based at the hyperbaric chamber, worked with Jon Hardy on Scuba Lab and is a founding member of the Women Diver's Hall of Fame. Dr. Bob Given; a pioneer in deep air diving, former director of the USC Marine Science Center, and Benefactor Member of the Catalina Conservancy; earned the award in 2004. "Dr. Bob" was well known to those in our town of Avalon as well as to the many students he taught at university level, and did so much for our island.
Two years later in 2006 Dave Bunch was given the award. I still see Dave out at Casino Point working as a dive instructor for Dave Lieberman. The following year Steve Benavides, a Catalina Conservancy Diver board member and leader in marine conservation efforts including the implementation of the Marine Life Protection Act (MLPA), was the winner. He was followed a year later by Karl Huggins, current director of the hyperbaric chamber at Two Harbors, a researcher into decompression theory and co-developer of one of the very first commercially viable dive computers.
I'm still not sure what a divebum like me is doing in that crowd of well accomplished individuals. However, I look forward to joining their distinguished group the night of June 4th at the Long Beach SCUBA Show in Long Beach where I will receive the award at a fund-raising event for California Ships-to-Reefs (CS2R) held on board the three Truth Aquatics dive boats from Santa Barbara. Among my friends there will be Joel Geldin, president of CS2R, Dick Long and, hopefully, hoards of my adoring female fans!
By the way, for those interested in learning more about ScubaBoard.com, the world's biggest Internet site for divers (over 100,000 members worldwide), we are holding a pre-SCUBA Show event here at our very own Casino Point Dive Park on Thursday, June 2nd, called the DWADD (Ditch Work and Dive Day). Come meet some of the big wheels from this fun website including Pete "NetDoc" Murray himself. It is one day I will not be diving dry!
© 2011 Dr. Bill Bushing. Watch the "Dive Dry with Dr. Bill" underwater videos on Catalina Cable TV channel 29, 10:00 AM weekdays and on Charter Communications Cable channel 33 at 7:30 PM on Tuesdays in the Riverside/Norco area. Please help me climb out of self-imposed poverty... buy my DVD's (see this link). Yes, take Dr. Bill home with you... we'll both be glad you did!
To return to the list of ALL of Dr. Bill's "Dive Dry" newspaper columns, click here.

"Dr. Bob" Given (2004), Karl Huggins (2008) giving tour of hyperbaric chamber at Two Harbors;
Lorraine Sadler (2001) blowing rings in the dive park and "Dr. Bill" (2011).. moi?
This document maintained by Dr. Bill Bushing.
Material and images © 2011 Star Thrower Educational Multimedia