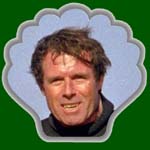 Dive Dry with Dr. Bill
#443: On With the Show, Part I
Rather than write about some interesting marine critter today, I'm going to extend my 15 minutes of "fame" (infamy?) a little longer and talk about my experiences at this year's Scuba Show, the largest consumer dive show in the country. In addition to the chance to see new gear and find out about dive travel bargains throughout the world, this show gives me an opportunity to see hundreds and hundreds of dive friends from throughout the world. Some I've become friends with on the Internet through ScubaBoard.com, The DiveMatrix and Facebook, while others I've met when they visited our world class Casino Point dive park.
This year's show began as it has for the last few years with a special dive known as the DWADD (Ditch Work and Dive Day) out on Catalina. ScubaBoard owner Pete "NetDoc" Murray was out with Elena and several other members to dive our kelp forests. I guided the group along the edge of the giant kelp forest out to the wreck of the Suejac, and then up into the area I refer to as the Kelp Cathedral along the breakwater. Given recent conditions, we had a great dive. On the second dive I led them out to see our mini wrecks and on to the "swim platform" (one of the old docks towed out to the park by Jon Hardy and Lorraine Sadler). On our way back to the dive park stairs, we swam through a huge cloud of sediment stirred up by feeding bat rays. Of course several of the divers jokingly blamed me for the poor visibility since I was "rototilling" in the lead! The wind and waves had kicked up considerably during that dive so we wisely chose to call the third dive... and enjoy another common interest, food and beer!
Friday I took an afternoon boat over to Long Beach and walked over to the Pine Street dock where the three Truth Aquatics dive boats out of Santa Barbara were tied up. Owner Glen Fritzler very kindly allowed me to stay on board the Vision, formerly captained by Avalon's own Tommy Campanelli and a boat I used to dive on when I taught at UCSB. If you're a diver and haven't taken a trip yet on these spacious boats, do yourself a big favor. The vendor party that night was held on the boats and I had the opportunity of spending time with many of those who supply us with our dive gear. Chatted with Steve and Diana Madaras at length. Steve is a former winner of the award I was to receive and, of course, they were partners in Catalina Scuba Luv with Bob and Tina Kennedy prior to moving on to warmer waters (a tempting thought, even for a kelp forest ecologist)!
Walking through the Show floor the next day was quite a challenge as people stopped to congratulate me on winning the prestigious California SCUBA Service Award. Some I knew only from pictures, and many that I have actually met in person were not recognizable with their clothes on. Shame on you, I'm referring to the fact they usually have wet or dry suits on while diving the park! I'm pretty good at recognizing faces, but names often escape me unless they are the long Latin or Greek scientific ones used for my other dive "friends..." the marine mammals, fish, invertebrates and algae!
One of my first stops was to say hi to Dale, Kim and Chris Sheckler. This family created the SCUBA Show, publish California Diving News and were responsible for choosing me as this year's SCUBA Service Award winner.. Next stop was the ScubaBoard booth to say hi to the other members manning (or "womanning") it. Then, being my usual cocky self, I walked over to world famous marine artist Wyland's booth where he was busy painting humpback whales on a canvas. Now Wyland buddied up with me one day off Catalina to film giant sea bass... until a 14 foot great white shark swam past us. I told Wyland I had come to take his crown from him. He was last year's winner of the award and I was about to end his reign... as the award winner, certainly not as an artist (despite the encouragement my 8th grade art teacher used to give me).
I spent the next 8 hours walking through the Show three times to check out the booths I wanted to spend more time at. I decided it would be foolish to take any literature the first day and have to carry it for two whole days, but I did want to check out all the dive travel specials. Some day my bank account might allow me my long awaited trips to the Red Sea, the Galapagos, Brazil, the Philippines, the Maldives, the Galapagos, Madagascar, South Africa, Greece, Indonesia, Japan, Palau, all the other Catalina Islands of the World.. and maybe even Antarctica if I can afford a warm dry suit in addition to the cost of the trip itself! I really didn't need any more dive gear this year as all my ancient stuff is still quite serviceable, although I did buy two pair of cutting shears in case I encountered fishing line at a local dive site.
Later that afternoon I ran into several dive friends including Carrie, Mina and Valerie. I had filmed Mina and Mark's underwater wedding at Casino Point and Valerie is my occasional buddy. They suggested we get together for food and a beer (hmmm, a common theme among divers, isn't it?). It took some time to get out the door and my friends were gone by the time I arrived, so I walked on down to the Truth Aquatics boats to get ready for the big California Ships-to-Reefs party and to receive the award (to be continued).
© 2011 Dr. Bill Bushing. Watch the "Dive Dry with Dr. Bill" underwater videos on Catalina Cable TV channel 29, 10:00 AM weekdays and on Charter Communications Cable channel 33 at 7:30 PM on Tuesdays in the Riverside/Norco area. Please help me climb out of self-imposed poverty... buy my DVD's (see this link). Yes, take Dr. Bill home with you... we'll both be glad you did!
To return to the list of ALL of Dr. Bill's "Dive Dry" newspaper columns, click here.

Pete "NetDoc" Murray gliding past the wreck of the Suejac on the ScubaBoard dive, the Truth Aquatics
dive boats ready to receive Dr. Bill and hundreds of partiers; Dr. Bill and "dive buddy" Wyland at Show,
and dive buddies Valerie and Mina with Dr. Bill on the Show floor.
This document maintained by Dr. Bill Bushing.
Material and images © 2011 Star Thrower Educational Multimedia