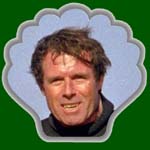 Dive Dry with Dr. Bill
#485: The REALLY Big Show
For those of you old enough to remember the Ed Sullivan Show, you'll understand the title of this week's column. For those of you youngsters below Medicare age, just read on. Last week I flew in after five weeks in Florida to be with my grand daughter Allison on her second birthday... and to attend an event I almost never miss, the Long Beach SCUBA Show. For one weekend an exhibit hall at the Long Beach Convention Center is filled with booths housing vendors of all sorts of SCUBA related products from wetsuits to dive insurance to international dive travel. It is billed as the largest consumer SCUBA expo in the country.
Since I am still a certified dive bum, and can't really afford to replace my trusty ancient gear with shiny new stuff, one of the main reasons I go is to socialize with thousands of other divers. Heck, it's even better than a weekend at Casino Point where I might encounter a few hundred at best. This year all that socializing had me a bit concerned since during a full day Saturday, I only covered two aisles of the Show. Fortunately on Sunday I was more efficient and got through the entire Show, signing up for all the dive trip raffles (which I never win) and gathering up show specials for specific destinations I'm interested in diving during our winter months. The Philippines are high on my list but I didn't see much on diving South America or Africa, two of my other "bucket list" destinations. However, a lovely Polynesian lady charmed me into considering a return to Tahiti for the great shark diving there!
Last year I received the California SCUBA Service Award at the Show, so I was interested in who won it this year. Every time I checked the Show's website and clicked on the link to the award, last year's page with my ugly mug kept coming up. The first thing I did when I picked up the Show program was to look for this year's winner... and how good a choice they are. Dale and Kim Sheckler, publishers of California Diving News and the creators of SCUBA Show were this year's recipients... and how appropriate! Unfortunately the winner the year before me, marine artist Wyland who paints those beautiful whale murals around the world, wasn't present at this year's show so we could reminisce about the time we dove as buddies and had a 14 ft great white shark swim past us out near the quarry!
As I meandered through the aisles, I ran into a number of folks with Catalina connections. Of course there was the Catalina Island booth itself, promoting our island to divers... as well as the Hermosa Hotel's booth with their great spinning wheel to win discounts on stays there. Karim Hamza and crew from Hollywoodivers were there... they are frequent visitors to Casino Point and a great group of folks to hang with. Kurt Lieber whose Ocean Defenders Alliance helped clear netting from the sunken squid boat Infidel off our coast shared a booth with Scott Cassell of the Undersea Voyager Project who had a new submersible to explore 20,000 leagues across the sea. It's small and comfy, so I'd much rather submerge in it with Scott's girlfriend than with Scott (or my own if I ever find one). Just teasing! The team from California Ships to Reefs was set up to gain support for the sinking of decommissioned ships off Catalina and the mainland. And, of course, my SCUBA home on the Internet (ScubaBoard.com) was there in force with Pete "Net Doc" Murray and Elena out from Florida along with Howard, Michelle and a host of volunteers manning (or womaning) the booth. Why, even the Mayor and his better half made the rounds on Saturday!
Of course what is a "really big show" without a party... or, better yet, two! As soon as the Show closed Saturday, I went down to the California Ships to Reefs Casino Night party. Thanks to the organizational skills of the team and a host of volunteers, the event raised funds to help in the effort to sink ships along the California coast... hopefully including a few off our own island to attract even more divers to this world class destination. The motto on the wristbands said "Loose Lips Sink Ships," and certainly word-of-mouth is important in spreading the news about the organization. However, it also takes loose wallets to fund the effort... and several divers met that criterion, bidding for the great auction items!
Last year I arrived too late at the Roddenberry Dive Team party, but did meet up with Rod and Heidi for midnight drinks and snacks. This year I was at the party by 8:00 and enjoyed an "adult beverage" (courtesy of former dive buddy Doug Ernst). Doug's generosity was paid back many fold. He had been looking for a new underwater camera all day at the Show, and ended up winning one in the raffle! Then his wife, a non-diver, won a dive trip (for one) to Fiji. Marine conservation was the biggest winner as Rod's goal is to spread the Star Trek ethic to the oceans and explore where few have gone before.
By 2:30 on Sunday my poor feet were complaining. After five weeks living out of a suitcase in Florida, I was ready to head home. I dragged my bag of dive travel literature back to The Pike and picked up my three (ugh) suitcases from my car, then slowly made progress toward the Catalina Express terminal where much to my pleasant surprise there was an unscheduled boat leaving in 20 minutes. Slept most of the way back and finally touched foot back on Santa Catalina Island soil! Having spent five of the last seven months in Florida, it was great to be home!
© 2012 Dr. Bill Bushing. Watch the "Dive Dry with Dr. Bill" underwater videos on Catalina Cable TV channel 29, 10:00 AM weekdays and on Charter Communications Cable channel 33 at 7:30 PM on Tuesdays in the Riverside/Norco area. You can also watch these episodes in iPod format on YouTube through my channel there (drbillbushing). Please help me climb out of self-imposed poverty... buy my DVD's (see this link). Yes, take Dr. Bill home with you... we'll both be glad you did!
To return to the list of ALL of Dr. Bill's "Dive Dry" newspaper columns, click here.

Our own Catalina Island booth, California Ships-to-Reefs booth; ScubaBoard.com's booth and Scott Cassell's new submersible.
This document maintained by Dr. Bill Bushing.
Material and images © 2011 Star Thrower Educational Multimedia