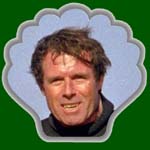 Dive Dry with Dr. Bill
#489: Out and About...
I can't say that I'm one of the world's greatest underwater videographers, but I can say I've filmed with some of them I first held a video camera in 1978 when my father bought a bulky and not very portable unit to film our family Christmas that year. Then in 1985 I discovered that video cameras were not just to use for taking home movies when Jean-Michel Cousteau handed me one and asked me to film some footage when I was a script and scientific consultant for a Channel Islands episode of Cousteau's Rediscovery of the World series on TBS. Later I would film great white sharks off Guadalupe Island with Dr. Guy Harvey who used my footage in his TV show. A few years ago I was asked by marine artist Wyland to be his dive buddy to film giant sea bass near our quarry... but didn't get any footage of the 14 ft great white that swam behind me. Heck, you gotta see it to film it!
Earlier this year I received e-mail from Roger Martin asking if I'd do some underwater filming for his "Out and About with Roger Martin" TV show. I'd worked with Roger and his producer Jim in the past, and another chance to get paid for diving and filming was appealing. The plan was to head out to Descanso Beach where they would try out the SNUBA experience with Catalina Scuba Luv. Roger's niece Amanda was with the crew again and along with Jim would submerge into the kelp forest. I watched as they listened to Bob Kennedy do the safety briefing, then went ahead to get in the water ready to film. Good thing I did as I had two major equipment issues... and no duct tape or tools! When I filled my tank, I smashed the face plate of one of my regulators and it was free flowing. Then I discovered my BCD inflator hose had cracked and I had little control over my buoyancy (critical for creating good footage). Oh well, when the going gets tough... the tough get going.
SNUBA is like a SCUBA diving experience in that you breathe air through a regulator in your mouth. However, you don't have to carry a heavy tank on your back. The regulator is attached via a long air hose to a tank floating unattended on a raft at the surface. Of course given the "umbilical cord," you can only go so deep. But then the bottom in Descanso is also only so deep. Jim had SCUBA dived before so he didn't take much time to acclimate once the weights on his belt were properly adjusted. Amanda was fairly new to the experience, but soon caught on and was descending all the way to the bottom. The two of them were obviously excited by the experience and were darting all over, making it hard for me to follow them with the camera. The thick kelp in places and some surge added to the difficulty, but I managed to get more than enough footage of them weaving in and out of the kelp.
Just below the Sea Trek float I discovered a small school of jack mackerel. There were only a few hundred (compared to the tens of thousands and more I've seen in the dive park), but they made for an exciting encounter for the SNUBA'ers. It is garibaldi mating season so we saw several males aggressively defending their nest sites. I was especially pleased when a fairly large school of white surfperch swam around us. They frequent sandy bottom habitats and I usually dive rocky reefs where they are seldom seen. Another highlight of the experience was when I looked down and saw a lobster stumbling along in the open on the sand, rather than hiding in a crevice in the rocks. A few seconds after I started filming it, a kelp bass about the same size swam down and nipped the lobster on the carapace, sending it "flying." I later found out from Amanda that Bob had picked it up so he could show her and then released it.
Jim and Amanda enjoyed SNUBA and were offered a chance to go on a Sea Trek run. Now most locals and many visitors know that Sea Trek involves wearing 75 lb white space-age helmets that make the Trekkers look like they are in an episode of Star Trek. I really should get my friend Rod, son of Star Trek's creator Gene Roddenberry, to suit up and try this. Several years ago Rod formed the Roddenberry Dive Team which involves applying the Star Trek philosophy to the exploration of the oceans. As we discovered later during lunch, Roger, Jim, Amanda and I all had close contacts within the Star Trek family so we shared many of our encounters over Descanso Beach Burgers and nachos. Fortunately Sea Trekkers follow a well-defined path that is generally unobstructed by kelp, so I had little problem getting good footage of Jim and Amanda this time.
After lunch I did a dive in the dive park and returned home to begin editing the footage. As most videographers know, the fun part is filming... the hard work is in the editing! Roger and Jim work primarily with Apple computers and I work with PCs. The video file formats we use are quite different and not generally compatible, so once I had the footage cleaned up and edited the hard part began. First I tried using video software to "transcode" or convert the footage in my format to theirs. I discovered (as I had on previous occasions) that what took up only about 4 GB in my high definition AVCHD format would be 80-100 GB in the uncompressed Apple MOV format. Since I only had a single DVD, that wouldn't do... it would take 20-25 of them to store those huge files. I ended up converting my footage into four different formats that I thought they could import into their software..
The next day I met up with the threesome outside the Casino. Joe was about to give them a special tour so they could film our architectural wonder. I told them a few stories about John Beckman, the Casino art designer, with whom I shared a common interest in the building... and astronomy. John got some of his artistic ideas while being rowed around the kelp forests in a glassbottom rowboat. Imagine how he would have reacted to being able to SCUBA dive in the dive park to receive his inspiration! I think John would have liked that... he had a close relationship with the ocean dating back to the days when he would surf on large redwood planks off northern California. Fortunately he and his family didn't take the maiden voyage of the Titanic as planned or his relationship with the ocean would be even "deeper" and the Casino job would have gone to someone else!
© 2012 Dr. Bill Bushing. Watch the "Dive Dry with Dr. Bill" underwater videos on Catalina Cable TV channel 29, 10:00 AM weekdays and on Charter Communications Cable channel 33 at 7:30 PM on Tuesdays in the Riverside/Norco area. You can also watch these episodes in iPod format on YouTube through my channel there (drbillbushing). Please help me climb out of self-imposed poverty... buy my DVD's (see this link). Yes, take Dr. Bill home with you... we'll both be glad you did!
To return to the list of ALL of Dr. Bill's "Dive Dry" newspaper columns, click here.

Bob Kennedy briefing Amanda before SNUBA, Amanda on SNUBA in the kelp; Jim and Amanda
doing Sea Trek and lobster jetting away after being bitten by kelp bass.
This document maintained by Dr. Bill Bushing.
Material and images © 2011 Star Thrower Educational Multimedia