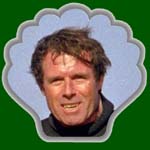 Dive Dry with Dr. Bill
#498: Where are They Today? In the Drink!
Back in the 60s and 70s when I was teaching marine biology at the Catalina Island School in Toyon Bay, I often wondered what would become of my students in later life. We assumed many of them would go into business, often a well-established family business. My goal was to give all of them a healthy appreciation not only for the marine life in SoCal waters but also for the terrestrial ecology of Catalina Island and ecological thinking in general. Of course many did become successful business folks while others went into teaching, Hell's Angels and other professions.
This past weekend I had a chance to get a peek at the adult lives of two of my former students, brothers Matt and Turk O'Connor. I had spent a bit of time with Turk and his son Aidan at the dive park since both are avid SCUBA divers. I hadn't seen Matt in ages, but knew through Turk that he was involved in diving professionally and offered topside and underwater support for many movie studios, the military and others filming vessels at the surface or subjects underwater.
Matt started out as a SCUBA instructor many years ago, and gradually formed his company (Offshore Grip Marine) over the decades. He now has a fleet of 20 vessels that serve as diving platforms, bases for film crews or cranes and other film support functions. He has worked on many Hollywood movies including "Pirates of the Caribbean," "Charlie's Angels," "Pearl Harbor" and "Perfect Storm." Hmmm, I should have asked Matt if he could introduce me to Keira Knightley, Lucy Liu or Jennifer Garner... all heart throbs of the good doctor! But then what women is safe from my cardiac pulses?
The brothers arranged to come out on one of Matt's boats, pick me up off the Pleasure Pier and head out for two days of diving and camping. Instead of the large inflatable I expected, they chose a 42' deckboat catamaran that looked like a barge or pier float resting on two pontoons. It was impressive coming into Avalon Bay, and even more impressive as we flew at about 20 knots out of the harbor towards our first potential dive site. I had hoped we could dive Little Italian Gardens, Twin Rocks or Goat Harbor to see and film the giant sea bass but the heavy surge severely limited our options. Instead we went up to the Empire Landing Quarry. There we found three mainland dive boats anchored on that site and chose instead to dive the adjacent Sea Fan Grotto.
Matt planned to stay on board as Turk, Aidan and I descended into the water. I was pleasantly surprised at how clear it was... in part due to the larger rocks that form the bottom there which were mostly immune from being "re-suspended" by even the strong surge! After a while we separated and I went over to the wall north of the grotto, but found it overgrown with young kelp plants. Our summer temperatures have remained cool enough to supply plenty of nutrients to the giant kelp so it has not died off. I doubled back to the rock face filled with sea fans (gorgonians) but it was a bit silty for filming there so I ascended slightly and entered the grotto or cave. It was great to be diving Sea Fan again as it had been a few years and I hadn't filmed it since I bought my new high definition camera nearly two years ago and LED video lights a year ago.
It was sad to see several of the gorgonians kicked off the walls and lying on the ground. Sea fan "mortality" here has been high due to divers with less than acceptable buoyancy "control." The sea fans hanging from the entrance to the grotto were fairly healthy and, as always, made great video subjects due to their structure and colors. Gorgonians are relatives of the jellyfish, sea anemone and coral but their sting is too mild to affect human beings... even hyper-sensitive ones like myself! They form large colonies of individual polyps that feed by capturing organic matter from the surrounding water and passing it into a common digestive tract to nourish all the colony members. These species actually believe in helping individuals less fortunate than themselves, realizing they are all in it for the common good. Of course some would call this socialism, but I don't think the gorgonians have enough brain power to consider any label for it.
After the dive we raced back to Willow Cove where we would camp that night. A quick trip over to Toyon and the Catalina Island Marine Institute (CIMI) gave us a chance to talk to Ross Turner and crew about our school reunion planned for late September... and to fill our SCUBA tanks (thank you CIMI!). It was very cool to watch both Matt and Turk talk to their kids about the marine life we saw and about how special Catalina was to them. Turk had attended CIMI with his kids and was very appreciative of their program and the fact it brought Catalina to about 18,000 participants each year (vs the 70-80 students we had at the school). Turk and Matt cooked a delicious dinner of barbecued steak, but we were dismayed to see previous campers at Willow Cove had apparently poached local lobster for their dinner. You just don't see lobster split their shells cleanly lengthwise when they molt, nor have signs of drawn butter on their exoskeletons.
Turk, Aidan and I did a night dive over to Mike Nelson Rock, the pinnacle at the border of Toyon Bay and Willow Cove. This was the site of many a dive back when I was teaching at Toyon, but I haven't dived it since the late 1970s. For those of you young'uns, it was the rock Mike Nelson's boat passed at the end of each episode of "Sea Hunt." I have a beautiful painting of it by Danny Peterson hanging in my bedroom. The surge was powerful and the fine sand really stirred up making it difficult to film anything useful. I did get one short sequence of a round stingray on the bottom... until Aidan's fin unintentionally hit just in front of it and scared it away. Oh, well... some interesting action footage and less to edit when I got home.
We all decided to sleep on board that night. Most slept in the pontoons of the catamaran, but several of us stretched out in our sleeping bags on deck. It was great to have the stars as the last thing I saw before my eyes closed! The next morning we were off to try diving inside Long Point. The surge was horrible at Hen Rock so that was out. As we approached Pirate Cove (shades of Mike Nelson and "Sea Hunt" again), the water was far too green to suggest diving was worthwhile. Matt turned the boat around and headed back to Avalon to drop me off, then they all returned to the mainland. Matt has a busy week ahead capturing juvenile great white sharks (5-6 ft) with scientists from the Monterey Bay Aquarium Research Institute (MBARI). Now that is a truly interesting job!
© 2012 Dr. Bill Bushing. Watch the "Dive Dry with Dr. Bill" underwater videos on Catalina Cable TV channel 29, 10:00 AM weekdays and on Charter Communications Cable channel 33 at 7:30 PM on Tuesdays in the Riverside/Norco area. You can also watch these episodes in iPod format on YouTube through my channel there (drbillbushing). Please help me climb out of self-imposed poverty... buy my DVD's (see this link). Yes, take Dr. Bill home with you... we'll both be glad you did!
To return to the list of ALL of Dr. Bill's "Dive Dry" newspaper columns, click here.

Matt's 42 ft deck boat in Avalon Bay; sea fans (gorgonians) at Sea Fan Grotto and the round stingray and Aidan's fin.
This document maintained by Dr. Bill Bushing.
Material and images © 2012 Star Thrower Educational Multimedia