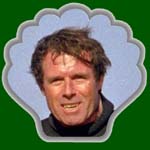 Dive Dry with Dr. Bill
#499: Cousteau Family Camp
In my 50 years of on-again-off-again diving, I've been very fortunate to get to know some of the biggest names in the fields of SCUBA and marine research. I've worked with Jean-Michel Cousteau and his father Jacques-Yves, Dr. Richard C. Murphy, "Her Deepness" Dr. Sylvia Earle, diving legend Bobby Meistrell; and filmed great whites with Dr. Guy Harvey off Guadalupe Island and giant sea bass with Wyland off Catalina. I'd like to attribute that good fortune to my scintillating personality and vast knowledge of marine critters and their ecology, but have to be honest and admit that living on Catalina has been a major factor in getting to know these people.
Catalina is a natural draw for those who dive for fun and those who study our unique kelp forest marine life and work to conserve it for future generations. Jacques-Yves and Jean-Michel Cousteau have worked in our waters many times, beginning about the time I arrived on the island in 1969 with "The Night of the Squid." I met Jean-Michel back in the 70s when I worked with him and Dick Murphy on the early Project Ocean Search Catalina programs based at Toyon Bay. I was a consultant on a two-hour Channel Islands special for Turner Broadcasting back in 1985. Four years later we tried to get a base for Jean-Michel on the island at Emerald Bay, but some shady politics torpedoed that attempt. Nearly a decade later an agreement was reached with the Catalina Island Camps at Howland's Landing to run Jean-Michel's Cousteau Family Camp and the Catalina Environmental Leadership Program (CELP) out of their facility.
Last Saturday Catalina SCUBA Luv's Bob and Tina Kennedy loaned me a 13 ft inflatable in which I could head up to Howland's for the weekend to meet up with Jean-Michel, Murph and Holly Lohuis of Jean-Michel's OceanFutures organization. Of course once I placed my ample butt on the side of the vessel, it was more like a "deflatable..." but it made the uneventful trip up to Howlands in just under one hour. I tied off the "yacht" and wandered up to the plankton lab where Murph was giving a lecture on the tiny critters one can see on the blades of kelp. While I was listening to Murph, Jean-Michel came up behind me and gave me a bear hug. We wandered off to find Holly on the beach, then I had lunch with her while the other two mingled with their camp guests.
I knew all would be busy with activities for the campers in the afternoon, so I brought my dive gear and planned a dive at the north end of Howland's. I'd never dived here (at least that I can remember) so I was looking forward to it. Jean-Michel admonished me since he knows I usually dive solo, but I surprised him and dove with a buddy, camp participant Robert McKenna who I'd met at last year's camp. I'm glad Robert didn't have a camera because my attempt at putting on my weight belt and tank on the bottom would have made America's Funniest Home Videos. We had a nice dive through the kelp, finding several round stingrays, a large school of courting barred surfperch and a smattering of the tiny starfish I've seen on kelp blades in the dive park (more on them next week). Unfortunately my housing failed to function despite two fresh sets of batteries and I was unable to record these for my adoring (or is it abhorring?) viewers!
I quickly showered and joined everyone for the final evening's social hour. We all know alcohol and diving don't mix, so the only time it is part of the Camp activities is at that one event. I was surprised to find the Conservancy had sent representatives to Howland's for this event with a special treat. Jean-Michel, Murph and Catalina Island Camps run the facility under a low impact environmental model in keeping with good conservation practices. The Conservancy staff was there to illustrate one way to get rid of the non-native species that plague our native ecosystems here and around the world... by eating them! Invasive bullfrog legs were barbecued and molasses cookies spiced with fennel were two of the exotic taste delights offered by them.
Jean-Michel had invited me to spend the night so I could attend the infamous "no talent talent show," a tradition we had back in the 70s at Project Ocean Search. Before hand I went down to check on the inflatable and make sure it was secure. I was astounded to see a fleet of chondrichthyes (sharks and rays) cruising the shallow water at dusk. There were numerous round stingrays, shovelnose guitarfish, bat rays and even a leopard shark in 2-3 ft of water. Oh how I wished I could be under with my camera... I saw more guitarfish in 10 minutes than I've seen in the last 10 years of diving!
Arrived at the "no talent talent show" just in time and took a few still images, then settled onto a bench beside Jean-Michel and Murph. There were some very funny skits about camp, but the one that took the cake was put on by my dive buddy Robert, his family and friends. They lampooned the composting and recycling program very humorously. Jean-Michel and Murph were quite amused. It was great to see Roger Urbach of Catalina Divers Supply, his wife and two of their grandchildren out at the Camp.
After the laughs, Jean-Michel and I met at his cabin and sat out on the porch to be joined by Murph and Holly for a glass of wine. Murph brought French red while Jean-Michel had some from Argentina. We slowly sipped the wine under a blanket of stars and the Milky Way, and talked about the fun we've had in the past... and our plans for the future as well. Murph and Holly retired early since he had a long drive the following day and she was with her young son. Jean-Michel and I continued until nearly midnight, enjoying his last night in Camp on this very special island surrounded by the sounds of surf and "billions and billions" of stars above. Truly Catalina is a very special place... and I'm so glad special people like these three see that as well, and help expose visitors to the wonders of the island.
Learn more about the camp at this link: Cousteau Family Camp
© 2012 Dr. Bill Bushing. Watch the "Dive Dry with Dr. Bill" underwater videos on Catalina Cable TV channel 29, 10:00 AM weekdays and on Charter Communications Cable channel 33 at 7:30 PM on Tuesdays in the Riverside/Norco area. You can also watch these episodes in iPod format on YouTube through my channel there (drbillbushing). Please help me climb out of self-imposed poverty... buy my DVD's (see this link). Yes, take Dr. Bill home with you... we'll both be glad you did!
To return to the list of ALL of Dr. Bill's "Dive Dry" newspaper columns, click here.

Cousteau Family Camp t-shirt, bull frog legs on "the barbie;" Jean-Michel participating in a skit at the
"no talent talent show" and a toast from Jean-Michel, Murph and Holly at the social hour.
This document maintained by Dr. Bill Bushing.
Material and images © 2012 Star Thrower Educational Multimedia