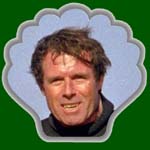 Dive Dry with Dr. Bill
#514: DUI DAWG Days at Casino Point
Several island residents who braved the elements this past weekend asked me about the big tents that were set up at the Casino Point Dive Park. When I mentioned they were for DUI's DAWG Days event, some wondered why a drunk driving event would be held there and others questioned what breed a DUI dog was. I think Herbie Sadd was wondering if a carnival was in town. Of course most divers knew what I meant, but I'm writing this week's column to enlighten the rest of my readers, because I greatly value those of you who are not divers but enjoy learning about King Neptune's realm and those of us who venture into it.
DUI (Diving Unlimited International) is the world's leading manufacturer of SCUBA drysuits. Yes, I know... SCUBA diving and being dry seem to be contradictory terms. Even non-divers know of the wetsuits that most divers use to keep warm. They function by trapping a layer of water under an insulating coat of neoprene, and letting the body heat it up. Dry suits encase the body in an envelope that (hopefully) prevents water from contacting the skin in the first place. Divers using them wear "underwear..." not Hanes or Fruit of the Loom mind you, but insulating undergarments that trap body heat. Seals (not of the mammalian kind) around the wrists and neck keep water from entering there. The result is that the diver stays toasty in cold water and emerges from the dive with little need for a towel except for their head.
DUI DAWG Days, now known as DUI Demo Days, is a series of events involving visits by the DUI staff to dive sites around the country. During one, divers who sign up can test dive several different dry suit models to see how they fit and perform. It is a great opportunity to not only don a drysuit, but to get instant feedback from the pros from DUI. DAWG actually is a play on DOG which stands for DUI Owner's Group. Of course the sound system kept several participants (including Susan) dancing... with the theme song being (can you guess?) "Who Let the Dogs Out?"
DUI was started nearly 50 years ago by diving pioneer Dick Long. Following his involvement with the US Navy in the Bering Sea, and on Sealab II, Dick designed a hot-water suit which allowed military, scientific and commercial divers to work in very cold water for longer periods. He has designed suits for these markets and for recreational divers. Even before starting DUI, Dick was a founder of the NAUI certification agency in 1960. He was also very active in getting the Canadian destroyer escort HMCS Yukon sunk off San Diego as a magnet for wreck divers.
Today Dick has "retired," but devotes much time to artificial reef programs including Ships to Reefs International and California Ships to Reefs. He has been involved in the concept stages of planning to place an artificial reef in Catalina waters. On one visit to Avalon, Dick's wife Bonita saw the Dr. Bill Mobile in the distance with "Dive Dry with Dr. Bill" on the windshield. She asked me if it belonged to one of DUI's dealers. I laughed and told her it was my golf cart and her ride to lunch. Heck, the only thing better than diving a DUI dry suit is to "dive dry with Dr. Bill" since it doesn't even require SCUBA certification or submerging, wet or dry. Just sit in your easy chair with a refreshing beverage and read my columns or watch my DVDs or cable TV show!
Dick's daughter Susan Long, current CEO and President of DUI, ably took the reins of her father's company and guides it today. In fact Susan was present at last weekend's event. I had met her during dinner with her father while staying with him and Bonita when I dove the Yukon with Joel Geldin of California Ships to Reefs. It really impressed me to see Susan hands on assisting diver after diver with drysuit fittings and answering the questions asked of her by potential customers. I ask you... how many CEOs of corporations are so involved with their customers?
Speaking of being involved, our own Mayor Bob Kennedy served as the divemaster for the event, checking divers in and out of the water to ensure everyone's safety. Sorry about the pigeon that munched down on your hamburger, Bob... but at least I got video of it! A number of other instructors were serving as guides for those testing the DUI drysuits including our own Mark Guccione, Tim Mitchell and Donny Neel. Karim Hamza, co-owner of Hollywood Divers, was here as well and dove with a new innovation... an electric undergarment powered by battery to keep one even warmer!
Although I dive a wetsuit almost exclusively, I do own a drysuit. Pete Murray, owner of ScubaBoard.com, gave me his Northern Diver drysuit a few years ago when he was diving with me off Scuba Luv's King Neptune. Pete did tell me to check the wrist and neck seals before I used it. They looked fine, but when I dove it on a cold January day, it filled up with 4-5 gallons of water and I looked like the Pillsbury dough boy coming out of the water after a 40 minute dive... perhaps the wettest of my career! Some day I will do a leak test on it and patch up the holes!
Now diving all seven continents is on my bucket list. I've done four already and plan to dive Africa and South America in the next two years. I'm saving Antarctica for last... because it is cold, and expensive! I could dive the hot springs there where the water gets up into the 40s, but will most likely have to contend with 28-30 F water. I told Susan that when I do plan my trip to that destination, I will be sure to contact her about buying a DUI drysuit!
© 2012 Dr. Bill Bushing. Watch the "Dive Dry with Dr. Bill" underwater videos on Catalina Cable TV channel 29, 10:00 AM weekdays and on Charter Communications Cable channel 33 at 7:30 PM on Tuesdays in the Riverside/Norco area. You can also watch these episodes in iPod format on YouTube through my channel there (drbillbushing). Please help me climb out of self-imposed poverty... buy my DVD's (see this link). Yes, take Dr. Bill home with you... we'll both be glad you did!
To return to the list of ALL of Dr. Bill's "Dive Dry" newspaper columns, click here.

Sign up station in DUI tent, CEO Susan Long happily helping customer; happy dry suit tester being fitted,
Mark and Codey Guccione getting ready to "dive dry" (without Dr. Bill).
This document maintained by Dr. Bill Bushing.
Material and images © 2012 Star Thrower Educational Multimedia