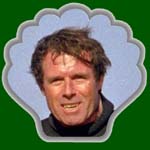 Dive Dry with Dr. Bill
#515: The Valiant and Prohibition
I may be a "wreck" of a diver, flailing arms and legs everywhere as I try to stabilize myself to film my subjects. However, I'm not much of a wreck diver. I'm "down under" for the critters that live there rather than for the trash we dump on the bottom... accidentally or on purpose. However, I do support the artificial reef projects being undertaken by California Ships to Reefs and other organizations. I realize there are many who enjoy the experience of diving on a wreck and learning of its history.
However, there are exceptions I grant. Two of those are wrecks in our local waters, the Pisces and the Valiant. Back in the early 1970s I used to party on the Pisces, then owned by Lynn Stokes. In fact, Lynn and I were after the same girl at the time. He won her heart... and his boat hit the Casino breakwater and sank... and I watched it go down! Of course the two things are strictly coincidental! I still think of those days when I dive on the Pisces at about 65 feet in the center of our dive park, and wonder about what happened to "our" girl. I did have an invitation from Lynn recently to sail a boat back from Tahiti in January, which would have been a great experience. I love the shark diving down there.
However, the Valiant went down well before my arrival here on Catalina Island. In fact, when it sank in December of 1930, my parents were only five years old and I wasn't even a glimmer in their eyes. I have done a number of dives on her over the years, but today she is just a broken shell of her former magnificence. I go there mainly to search for those beautiful shell-less snails known as nudibranchs.
The 162 ft long Valiant was launched a mere four years before her death. With a beam of 26 ft, she had plenty of room for guest cabins, 13 bathrooms (or should I say heads) and even a playroom for the owner's children. Originally she was owned by Hugh Chisholm who christened her the Aras, his wife's name spelled backwards. Just a few months later he sold her (the yacht, not his wife) to Charles Howard of the Howard Motor Co. who made San Francisco her home port. Since his wife was not called Sara, he renamed her (the yacht, not his wife) the Valiant.
The yacht made several visits to Catalina when Howard owned it. On the night of December 13, 1930, she (the yacht, not his wife) was anchored in Descanso Bay off the luxurious Hotel St. Catherine. The Howards and their guests were dancing and enjoying some holiday cheer in the salon (not saloon). Of course Prohibition was still in force at the time, but widely ignored by the public. Some of the crew were enjoying a game of cards (who said there was no gambling at Catalina?) when the lights flickered and died. The generator that supplied the on-board electricity had run dry.
One crewman ran down to refill the fuel tank, but was reportedly anxious to get back and play his hand. I'm guessing he was violating Prohibition too... as well as not playing with a full deck... because he left the valve open and fuel began spilling out in the engine room. Within minutes the ship was ablaze and the 28 passengers and crew had to abandon ship. Hmmm... I wonder what cards that crew man had in hs hand.
The harbormaster tried to tow the Valiant away from the other boats in Descanso Bay, but an anchor came loose and prevented the Valiant from going very far. It is said the fire raged for three days before the plates in the metal hull buckled and allowed the ship to descend to its final resting place.
Over the years people salvaged many things from the vessel. Mel Fisher, who used to own an early dive shop in the Los Angeles area, is reported to have taken many items from the wreck in the early days of diving. Later he discovered the Spanish galleon Atocha and took much more valuable cargo off it. Catalina's own Cap Perkins treated the wreck as his Sunday chapel and used to dive on her regularly, but became dismayed at the damage caused by Fisher and other wreck divers. Today it is illegal to take anything off her.
Divers still occasionally find pieces of porcelain, silverware and other small relics in the area around the wreck. Some of the favorite items that found their way to the surface with some assistance were the drink tokens. When guests headed towards Avalon, the Howards would give them metal tokens that said "Good for One Drink" on them. Now I'm assuming these were to be redeemed for the non-alcoholic beverages served in the Catalina Casino during Prohibition. They weren't? Oh, my, my, my!
NOTE: The week this article was published, diving pioneer Cap Perkins mentioned in it passed away. Cap jointly held the men's deep diving record in 1954 and was a safety diver when Zal;e Parry of "Sea Hunt" fame set the women's deep diving record off Catalina that same year.
© 2012 Dr. Bill Bushing. Watch the "Dive Dry with Dr. Bill" underwater videos on Catalina Cable TV channel 29, 10:00 AM weekdays and on Charter Communications Cable channel 33 at 7:30 PM on Tuesdays in the Riverside/Norco area. You can also watch these episodes in iPod format on YouTube through my channel there (drbillbushing). Please help me climb out of self-imposed poverty... buy my DVD's (see this link). Yes, take Dr. Bill home with you... we'll both be glad you did!
To return to the list of ALL of Dr. Bill's "Dive Dry" newspaper columns, click here.

The Valiant underway and as it was sinking off Descanso Bay; the wreck today resting in 65 to 100 feet.
This document maintained by Dr. Bill Bushing.
Material and images © 2012 Star Thrower Educational Multimedia