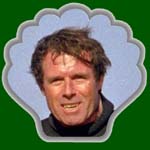 Dive Dry with Dr. Bill
#524: Blackbeard's: A Pirate's Life for Me, Part 1
I must be getting old because it seems my bones (not to mention my brain) can no longer tolerate diving during the cold winters here in southern California. This despite the fact that water temperatures are actually fairly "warm" for this time of year. But I'll continue to bite the bullet and dive the kelp forests to bring back images for my readers! Fortunately, my consulting and filming for Japan Underwater Films during the shooting of their documentary on our giant sea bass last September made me enough coin of the realm that I developed a real yen (get it?) for some warm water travel this winter.
Nearly 18 months ago Air Tran canceled my flight to my niece's wedding (I arrived in time though) and gave me a free round trip ticket anywhere they flew. I checked their route map for dive locations and discovered that they flew to the Bahamas. Now I'd never been there and I'm not a huge fan of diving the Caribbean or southwest Atlantic because it pales in comparison with Asia (not to mention the women sunning themselves on the beaches there). However, an opportunity to dive and film the relatively abundant shark life in Bahamian waters had me researching opportunities.
After hearing some negative reports about the Carib Dancer dive boat, I looked into other options and started leaning toward Blackbeard's cruises. When I heard they offered a $100 discount on one cruise devoted to mooring repair and lionfish control, I jumped at the chance! Must be the Scotch blood (or just the Scotch) in my system. Now Blackbeard's sailboats are not five star luxury dive boats, but that's never what I look for (unless someone else is footing the bill). Several have referred to Blackbeard's as camping at sea. That was just fine with me so I signed up.
My fllght from LAX to Atlanta was uneventful. When I got there, Air Tran told me my flight to Nassau left from the same gate... but when I checked the departure board it said my flight was canceled!!! I had planned to arrive the day before the sailing, but the next flight would not get me to Nassau until an hour after the boat was to leave the following day. Suffice it to say my mood was not my usual chipper self and I uttered one four letter word in talking to the customer "service" rep at Air Tran and he booted me from the line. Must have been a touchy fellow because it was nothing worse than you hear listening to (c)rap music these days.
I had visions of not only losing my $1,000 trip on the boat, but also my reserved hotel room that night in Nassau. I talked to the customer service manager and was given hotel and meal vouchers, plus the good news that I'd receive another free round trip flight because of the cancellation. I called Blackbeard's and they said they'd hold the boat for me if I grabbed a taxi and headed straight to the dock the next day when I arrived. Whew! I was already liking this Blackbeard's operation for saving my trip and I hadn't even stepped on board.
After a good night's sleep in Atlanta, I boarded the flight to Nassau and immediately became suspicious. The flight seemed about 20-25% full at best and I wondered if the previous day's bookings had been so low that Air Tran canceled for that reason rather than "mechanical problems." The taxi from the airport cost four times what my bus reservation would have, but I arrived at the dock and boarded Blackbeard's "Morning Star" ready for the adventure.
The boat was only half booked so I was given a double berth in the mess compartment along with two other "mature" divers. It was far roomier than I expected and I had no problem sleeping with my bags and video gear in the bed with me, although I would have greatly preferred a beautiful and intelligent mermaid as my bunkmate! At least I could dream. I met my shipmates at dinner that night and was immediately impressed with the group. I doubt I could ask for better company to share the pirate's life with me aboard Blackbeard's (unless they were all single ladies!). Oh, and the food was fantastic thanks to our chef, Martine. I wondered if I'd still fit into my wetsuit by the end of the trip.
Because of my delayed arrival, we were unable to do our first day's dive (they tell me Nassau harbor isn't a great dive site anyway). That night we were off on our adventure. I was quite surprised to find there was a beer tap on the main deck, although once you taste it you are done diving for the day (as should be the case... DUI, diving under the influence, is not a good practice). Being a wine snob, I was pleased to find they had a selection of international wines on board free for the passengers after dinner (or our night dive).
After enjoying some socializing with the other passengers and crew, I climbed into my cozy berth and under the blanket to rest for the four dives the next day. Dreams of sharks and mermaids filled my mind as I dozed off. I was still on Pacific time but for some strange reason I awoke about 2:30 AM our time. Maybe it was due to the huge coffee pot plugged in just inches from my head! But I was sufficiently rested and excited to begin this new adventure. To be continued...
© 2013 Dr. Bill Bushing. Watch the "Dive Dry with Dr. Bill" underwater videos on Catalina Cable TV channel 29, 10:00 AM weekdays and on Charter Communications Cable channel 33 at 7:30 PM on Tuesdays in the Riverside/Norco area. You can also watch these episodes in iPod format on YouTube through my channel there (drbillbushing). Please help me climb out of self-imposed poverty... buy my DVD's (see this link). Yes, take Dr. Bill home with you... we'll both be glad you did!
To return to the list of ALL of Dr. Bill's "Dive Dry" newspaper columns, click here.

Blackbeard's "Morning Star" in port, my berth in the mess; Martine's delicious food
and the good doctor with some of my dive buddies.
This document maintained by Dr. Bill Bushing.
Material and images © 2013 Star Thrower Educational Multimedia