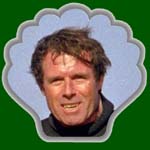 Dive Dry with Dr. Bill
#542: RIP: Bob Meistrell, A Legend
This past weekend I lost one of my most enthusiastic readers and the world lost a diving and surfing legend when Bob Meistrell, co-founder with his twin brother Bill of Body Glove and owner of Dive N' Surf in Redondo Beach, passed away of a heart attack on his boat The Disappearance off Ship Rock. Bob and Bill were members of both the diving and surfing halls of fame. Bill passed away in 2006.
Although I had known of both Meistrell brothers for some time, I first met them through the Catalina Conservancy Divers (CCD) in the early 1990s when I was a consultant for the parent organization. Bob and Bill were co-founders of the CCD and felt it was important for the conservation work of the Conservancy to be extended into the surrounding waters. He had a long standing love for Catalina and owned a mooring at Cherry Cove for several decades. Some time ago Bob contacted me and said he was an avid follower of my "Dive Dry with Dr. Bill" newspaper columns. He thought I should publish a book of them and offered to help me get them printed in other newspapers including the Easy Reader. Unfortunately, this is one column he won't be reading... at least not in the copy of the Avalon Bay News delivered weekly to his home.
Bob and I had been communicating frequently over the past year about another Catalina project he had proposed and was quite excited about. He had observed our bald eagles rearing their chicks via a webcam and thought we should place a camera in the Casino Point Dive Park so people could watch our state marine fish, the garibaldi, mate and tend their eggs via the Internet. I spoke with him a week ago about this project and he was preparing the video camera and housing we would use while Catalina SCUBA Luv worked on the uplink to the Internet. During our conversations prior to my recent dive trip to the Philippines, Bob regaled me with tales of a trip he took there in the 1960s when he dove with Marcos and Aquino. He had forgotten to take his c-card and initially was told by the dive operator he couldn't dive... until they actually saw him underwater and said he was the best diver they had ever seen!
This past weekend Bob was out at Cherry Cove on the Disappearance for the Rock 2 Rock Paddleboard Race from Two Harbors to Cabrillo Beach in San Pedro. His grandnephew Daly was competing in the race and the family had gathered at Cherry Cove to celebrate Daly's birthday on Friday. As always, Bob loved being with his family and being involved in almost any form of watersport. Shortly after the race started, both engines on the Disappearance died. Bob went below decks to find out what was wrong and suffered a heart attack working on the engines. Family and Baywatch Isthmus attempted to revive him for two hours without success.
Bob and his identical twin brother Bill were actually born a "day" apart in Missouri, with Bill appearing before midnight and Bob minutes after. I've read that Bob used to tease his "older" brother about that every year. Their first diving experience was in a pond and utilized a 5-gallon vegetable oil can fitted with a glass plate secured by asphalt, and a bicycle pump to deliver air. In 1944 they moved to Manhattan Beach and attended school at El Segundo High. After graduation the brothers became Los Angeles County Lifeguards. Following service in the Korean conflict, the brothers returned to SoCal where they spent much time surfing. In the early 1950s they bought Hap Jacobs' half interest in Dive N' Surf and in 1957 the legendary Bev Morgan sold his half to Bob and Bill. When the Los Angeles County Underwater Unit began its certification program for divers and instructors, Bob and Bill were in the first class and Bob received instructor card number one. My OW certification card from L.A. County back in the late 60s is a whopping number 106,497!
Bob and Bill experimented with various materials to create exposure protection that would keep divers and surfers warm. These included wool sweaters and battery heated clothing (imagine the size of the batteries required back then... who would need a weight belt!). Their partner Bev Morgan read a scientist's paper about a "wet suit" while visiting the Scripps library and together the three developed a closed-cell neoprene suit from a material used to insulate refrigerators that would keep water enthusiasts warmer. They called it the Thermo Cline. Later Hang Ten founder Duke Boyd suggested they needed a new name and came up with Body Glove because the wetsuits fit like a glove.
The brothers got involved in Hollywood, and supplied the equipment for the TV Show "Sea Hunt," which starred Lloyd Bridges and episodes were often filmed in Catalina waters. After the show began production, Bob created a custom wetsuit for Lloyd who asked if he was also going to teach him how to dive! "I thought you already knew how" is reported to be Bob's response. He not only certified Lloyd. but also his family. Bob and his brother would also teach Charlton Heston, Hugh O'Brian, Richard Harris and Gary Cooper but I wish I had been his divemaster when he taught Jill St. John!
Like most divers, Bob and Bill were avid hunters in their early years but came to realize that uncontrolled take of certain species was having a serious impact. When a giant sea bass was photographed in Catalina waters with a spear dangling out of its side by Steve Maderas, they offered a $5,000 reward for information leading to the capture and conviction of the diver. They were involved in an effort to get bug (aka lobster) hunters to return the big ones to the sea so they could continue reproducing. Bob and Body Glove recently teamed up with my old friend Jean-Michel Cousteau and Ocean Futures, to produce a line of wetsuits and other dive clothing with a portion of the profits going to Ocean Futures to promote their work in marine conservation.
Bob and his brother had a motto they lived by "Do what you love and love what you do," a philosophy I adhere to as well. Bob died doing something he loved in a place he loved. He will be greatly missed. My condolences to his wife Patty, his family and his many friends on the Water Planet.
© 2013 Dr. Bill Bushing. Watch the "Dive Dry with Dr. Bill" underwater videos on Catalina Cable TV channel 29, 10:00 AM weekdays and on Charter Communications Cable channel 33 at 7:30 PM on Tuesdays in the Riverside/Norco area. You can also watch these episodes in iPod format on YouTube through my channel there (drbillbushing). Please help me climb out of self-imposed poverty... buy my DVD's (see this link). Yes, take Dr. Bill home with you... we'll both be glad you did!
To return to the list of ALL of Dr. Bill's "Dive Dry" newspaper columns, click here.

Bob and Bill Meistrell in early ad for Dive N' Surf and my Manila friends Evie and Cindy wearing Body Glove gear in the Philippines;
Bob and Jean-Michel Cousteau with the new logo and the mating garibaldi that Bob wanted everyone to see (photos 1 and 3 thanks to Body Glove).
This document maintained by Dr. Bill Bushing.
Material and images © 2013 Star Thrower Educational Multimedia