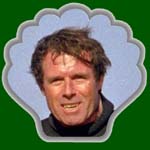 Dive Dry with Dr. Bill
#544: (Almost) Stranded in Sabang
My recent trip to the Philippines involved diving at two different destinations. I've already described the wonderful experience at Club Ocellaris in Anilao... eleven days of very intense diving, completing 42 dives with some lasting more than two hours. I must admit I was ready to wind down a bit after that, and headed to Sabang just outside Puerto Galera for another week of diving. Through the recommendations of friends in the Philippines and stateside divers who had visited there, I chose Action Divers who put together a very reasonable package of three dives plus hotel with breakfast for $95 a day.
Our driver Redjie picked us up at Club O and drove me to the Batangas pier where I was to catch a ferry to Sabang. My dive buddies Evie and Erik would head on back to Manila after I was dropped off. My friends warned me to keep a close eye on my baggage, and Redjie walked me through the ticketing and security check. Two locals offered an unwanted hand carrying the bags a few dozen yards and then practically demanded a three dollar tip each. Once in the terminal I waited for my ferry, a high capacity bangka that probably accomodated about 100 passengers.
When I arrived in Sabang, I was besieged with touts offering to carry my bags for a fee. I had heard it was a 10 minute walk to Action Divers and my room at Banana Moon, but carrying (or, more accurately, dragging) my heavy bags across the sandy beach was a cardio workout I had not anticipated. Boy was I relieved when I finally saw the sign for Action Divers and could drop my dive gear off there. The hotel was just a few doors down, and I was quickly shown to my room. I forego air conditioning because it affects my sinuses, but the fan, lights and TV weren't working. It turned out there was a power outage in Sabang, but within a few hours that was remedied. Looking over the room, I was quite amused by the SpongeBob SquarePants pillow on the bed.
I returned to Action (Divers that is) and met the owner, Roscoe. I had e-mailed him from Anilao that I needed a new battery for one of my dive computers and he had very nicely sent one of his crew in to town to pick one up. I had the computer back up and running in no time and talked to the dive instructors about the dives the following day. Simon and Huw are from the UK, but both settled in Puerto Galera and have lived there for some time. I also met JoJo and Arvin who loaded and unloaded the dive and camera gear onto the bangkas.
I was running low on cash so I skipped dinner that night and stayed up at my hotel room charging all the batteries for my video rig. Having given up on television about four years ago, I quickly confirmed there was little worth watching and retired "early." The next morning I was awake by 5:30 and went out onto my deck to watch the sun rise over Verde Island across the Verde Passage. I had heard the diving there was phenomenal. My room included a free breakast at the Full Moon Bar so I wandered down there and had a really good meal sitting right by the beach.
After returning to my hotel to grab my video gear, I suited up at Action Divers for the first trip of the day at 9:00 AM. As in Anilao, our dives would be from bangkas and most of the sites were fairly close to Sabang. We would go out at 9:00 and return to the dive shop after the dive. The other two dives each day would depart at 12:00 and 3:00 PM. There would be no night diving which was fine with me as I wanted a less demanding pace than we had at Club O.
I met some really nice folks through Action Divers. Sephora and Mya were taking their open water certification there, and it was obvious their instructors had done a good job with them. The others I dove with came from all over the globe... Europe, Asia and Australia. Action Divers had a divemaster from Finland named Tanja who was escaping the brutal northern European winter just as I did the SoCal cold season. She reminded me of the Girl with the Dragon Tattoo, although her back was covered by koi and a watery scene. The professional staff at Action Divers recognized I could hold my own and even let me dive solo when a large group of Russian divers joined our boat. The diving was great and I'll be writing future columns about what I saw in Sabang as well.
I discovered later that neither Action Divers or the hotel or restaurant took traveler's checks. If I had read Roscoe's information sheet or done a little research before I left, I would have known that almost no one in the Philippines accepts these outdated forms of payment. "As good as cash?" I don't think so. I don't trust computers with what little money I have left so I don't use ATMs, and rather than carrying cash I had relied on the old standby, American Express. Between dives on several days I walked into town and tried to cash them at currency exchanges and the local bank with no luck. With my cash dwindling, I survived on one meal a day (the free breakfast) and drank a lot of water to quell my stomach growls.
I had a dilemma. My cash on hand was limited and I had to pay my bill at Action Divers and the hotel before I left. My sister offered to send money via Western Union, but I told her to wait until I exhausted all resources. I was soon exhausted myself trying to do just that. Two days before I was to leave, I was saved by a couple from Singapore I was diving with. Graham and Iree offered to loan me enough money to pay my bills and get back to my hotel in Manila. I was overwhelmed by their generosity. About a year ago I had "friends" here on the island cheat me out of over $4,000 by perjurying themselves, yet this couple, who had known me just a few days, was willing to loan me enough to pay my bills on the faith that I would repay them when I got back to the States.
Once I got back to Manila I tried to cash them and was refused at every bank. Frustrated. I took a taxi to American Express to get my remaining traveler's checks converted so I could pay Graham and Iree back at a dinner being held by friends in my honor that night. My advice regarding:American Express traveler's checks? "Don't leave home WITH them" (at least not if you're going to the Philippines).
© 2013 Dr. Bill Bushing. Watch the "Dive Dry with Dr. Bill" underwater videos on Catalina Cable TV channel 29, 10:00 AM weekdays and on Charter Communications Cable channel 33 at 7:30 PM on Tuesdays in the Riverside/Norco area. You can also watch these episodes in iPod format on YouTube through my channel there (drbillbushing). Please help me climb out of self-imposed poverty... buy my DVD's (see this link). Yes, take Dr. Bill home with you... we'll both be glad you did!
To return to the list of ALL of Dr. Bill's "Dive Dry" newspaper columns, click here.

The view of Verde Island from my deck at sunrise, Action Divers; Tanja, "the girl with the koi tattoo," and my saviors Iree and Graham.
This document maintained by Dr. Bill Bushing.
Material and images © 2013 Star Thrower Educational Multimedia