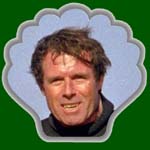 Dive Dry with Dr. Bill
#551: I Didn't Make the Rules
I must be getting old and forgetful. Weekend before last I was supposed to meet with Jean-Michel Cousteau during his Family Camp at Howland's Landing to talk about a possible IMAX movie project. It was right there on my calendar, but instead I relied on my feeble brain and thought the meeting was a week later. When the day came, I realized my mistake but had no way to get up there for the meeting and missed seeing him and my friends from our days in Project Ocean Search back in the mid- to late-70s.
However, thinking back to those thrilling days of yesteryear made me think of some of the other programs I was involved in back then. One of them was Sea Kayak Adventure, a camp I directed based out of Toyon Bay. During the three week program, participants learned to build their own kayaks and paddle them around the island. As director, I was tasked with teaching island and marine ecology, cooking all the meals, cleaning all the dishes and leading the expeditions around the island in a 12 ft inflatable Metzler with all the food and safety gear.
Kayaking at the Catalina Island School (Toyon Bay) was an important activity. Back In 1971 I guided our first kayak crossing of the San Pedro Channel, piloting the school's open launch, the K.V., and navigating our way using just a compass back in the years before we could afford Loran or had GPS. The crossing was in a pea soup fog and when I could finally see the island, a mere 50 ft away, we ended up right at Long Point... my intended destination. Pure luck, I can assure you... but I didn't tell the paddlers that!
Kayaks were used by both faculty and students for camping trips and other recreation (although some of the students used them to import illicit substances such as Jose Cuervo Gold onto campus... if we didn't catch and "bust" them). I even did a little SCUBA diving using the kayaks as transportation. In the early 70s we took students down to the Sea of Cortez. A huge tiger shark (about 22 ft) bumped into the Klepper double folboat I was paddling three miles offshore and nearly tipped us over. The Mexican shrimp fleet thought we were the bravest men in the Sea of Cortez to be out there with El Grande Tiburon in that little boat. In the 90s I even led kayak trips up the rivers of Belize to search out manatees.
To this day I think kayaking is a wonderful way to see the island and am pleased so many take advantage of it. After I left the Conservancy, I occasionally led kayak trips for Descanso Beach Ocean Sports (DBOS) and had a fantastic time doing it and introducing visitors to our island's ecology. It is great to see operators like the Wet Spot and Avalon Boat Stand offering similar opportunities to our guests. When my sisters visited a few years ago, I took them kayaking... although they were not anxious to jump in the water with the harmless leopard sharks we encountered... or maybe they were just too "anxious!"
However, as both a former kayak enthusiastic and an avid SCUBA diver, it is my firm opinion that kayaks don't belong in the Casino Point Dive Park. That opinion is shared by most of the instructors I know who bring their classes here. Some have been told by authorities that there are no ordinances prohibiting non-motorized watercraft in the dive park. To the best of my knowledge this is true... they are not prohibited by law from entering the park.
However, we do not live by law alone. We also live with many rules that dictate our behavior. For example, I don't believe there is a law regarding the use of the dive park stairs, but there are rules and posted signs that state one should use the up and down sides as indicated by the big bright red arrows I painted (which many people ignore). There is no ordinance I'm aware of that states people should not block the stairs or sunbathe on them... but there are posted rules to that effect (and they are routinely violated until someone points it out).
One thing overlooked by those who state kayaks are not prohibited in the dive park is the fact that there are rules that DO prohibit them. No, they weren't created by divers... they were established by the kayak operators themselves. The owners of DBOS, Randy Brannock and Mary Stein, also formerly owned Catalina Divers Supply and are very aware of the issues relating to safety when it comes to divers and kayakers. Written into the kayak rental contracts of at least two of our local operators is that they stay out of the dive park, and the other operator specifically tells kayakers to stay out. All three operators have wisely done their part to help assure safety, both for divers and for their kayakers, and I thank them for this.
I have heard a few suggest that a diver's training should prepare them to look up as they ascend and thereby avoid the bow of a kayak or a paddle being dipped into the water (or a diver's face). This overlooks the fact that many of the people using the dive park are involved in Discover SCUBA or Open Water classes and have not yet had the training to do this. Nor do most certified divers expect to see any watercraft in the park. It is the ONLY place within the city limits that we can SCUBA dive without a permit, yet watercraft have a nearly unlimited range of options regarding where they can operate (well, except on dry land although some even try that!).
Although I'm a far left-leaning radical pinko liberal politically (want to view my FBI file from the 60s? Me, too), I don't see the need for a new city ordinance. More government is not always the answer. Our kayak rental operators have already done a great job of addressing this potential safety issue. Since these are rules not laws, City and County personnel probably can't enforce them. However, we do need others to recognize that kayaks are NOT allowed in the dive park by the kayak operators, and that they should be supportive when we ask them to leave the park... especially when they are paddling fast through the area where the classes descend and ascend. The image with this column actually shows three of six kayakers who came into the dive park this past Monday right by the buoys used to train new divers. All had fishing rods and wanted to know if they could moor to the training buoys and fish... in a Marine Protected Area???
On our part as divers, we need to request kayaks to leave the park in a firm but friendly way. Yelling at them may be necessary so they can hear the warning, but it should be done in a courteous way with a "please" and a "thank you." Kayakers are also our guests and deserve to be treated with respect so they enjoy their stay on the island, too.
© 2013 Dr. Bill Bushing. Watch the "Dive Dry with Dr. Bill" underwater videos on Catalina Cable TV channel 29, 10:00 AM weekdays and on Charter Communications Cable channel 33 at 7:30 PM on Tuesdays in the Riverside/Norco area. You can also watch these episodes in iPod format on YouTube through my channel there (drbillbushing). Please help me climb out of self-imposed poverty... buy my DVD's (see this link). Yes, take Dr. Bill home with you... we'll both be glad you did!
To return to the list of ALL of Dr. Bill's "Dive Dry" newspaper columns, click here.

Sea Kayak Adventure participants on windward side of island back in the 1970s; kayakers well inside the dive park
(all with fishing rods in an MPA) and two passing directly over me while diving.
This document maintained by Dr. Bill Bushing.
Material and images © 2013 Star Thrower Educational Multimedia