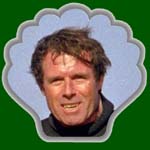 Dive Dry with Dr. Bill
#568: A White Christmas!
Way back in 1969 Jacques Yves Cousteau was out on the Calypso off Catalina Island filming mating squid for his "Night of the Squid" documentary. I didn't arrive on the island until summer of that year so I didn't get to meet one of my marine icons then. However, I did get to work with him and Jean-Michel Cousteau on a two hour documentary about our Channel Islands back in 1985. That allowed me to check off one of my top "bucket list" items... well before I kick the bucket!
This past week Jean-Michel paid us a visit with a French crew to film a segment about diving in our kelp forests. Old friends Dr. Richard C. "Murph" Murphy and Don Santee joined him along with newer friend Holly Lohuis from JMC's Ocean Futures organization up in Santa Barbara. We went out on the Catalina Diver Supply's boat to several sites including Hen Rock, Descanso Bay and even the Casino Point Dive Park to film. Holly had showed Jean-Michel my squid images on Facebook while they were down in Cozumel, and he was excited about filming them.
The weekend before they arrived I had reports of squid all over the wreck of the Valiant and Descanso Bay from Tim Mitchell and Royston Nguyen, then additional reports the following day from Jeannie Whelchel that squid were not only in the dive park, but at a fairly shallow depth of 45 ft. I grabbed my high definition (HD) camera and did a morning dive. The bottom was covered with dead and dying squid, and I did see a few dozen still alive and even mating.
I decided to do a night dive and encountered thousands of them in mid-water giving me a golden opportunity to capture some new footage. I knew I'd be going deeper than my usual 50 ft limit on night dives, so I wore a compass to avoid getting lost in the dark. When my viewfinder batteries died due to a bad charger, I glanced at the compass and headed "in" to reach the dive park stairs. For some reason, the depth kept increasing and I realized I was heading for Long Beach instead! No panic. I just ascended a deep kelp "plant," did a safety stop, surfaced and swam toward the Casino beautifully lit in red and green for the holidays.
In the old days when I first arrived on the island, the market or opalescent squid was known scientifically as Loligo opalescens. However, those darned taxonomists decided to confuse me again and changed its name to Doryteuthis opalescens. I'm sure these invertebrates must think we're pretty strange since we don't use their real names... Sarah, Steve, Sabrina and Salvador Squid.
Those of us who live on the island are quite familiar with the squid boats that fish along our coast. Way back when I taught at the Catalina Island School (Toyon Bay), we used to buy 55 gallon trash cans full of squid off these boats to feed our students, along with pigs we raised and butchered. Amazing how many of them turned into vegetarians! Apparently this year there has been a real explosion of squid creating a bumper crop, and the commercial squid boats reached their quota early and were gone by the time we started filming.
Many of you may not be aware that the squid fishery is the number one commercial fishery in California, worth over $69 million last year. American palates have not always favored squid. I think back to a dinner I hosted at my parent's house in Chicago many years ago. I invited friends of mine from my high school class, from my Harvard days and even a few from the island who were in Chicago at the time. I spent all morning and afternoon preparing a feast of squid stuffed with various yummy fillings... cheeses, veggies and squid tentacles. Only two of us ate dinner that night.
Over the coming weeks I'll write in greater detail about the various aspects of squid natural history and spawning. But since we're on the subject of my home town, that toddling town... Chicago... and it's the holiday season, I had a few closing thoughts to offer in this week's column. I must admit that this time of year I miss family and the Windy City... especially the bone chilling temperatures (81 below with the wind chill one year), the deep snow drifts I'd have to shovel from my parent's driveway (only to have the snow plow push them back) and most importantly my parents and sisters.
Yes, I know... I'm just a sentimental fool, but watching the palm trees sway in December doesn't cut it. Christmas just isn't Christmas if it isn't white! I'm dreaming... but I got my wish. Eric Mahan of Catalina Divers Supply located a huge bed of squid eggs off Hen Rock and I spent two days diving it with the Cousteau team. White egg clusters extended farther than my eyes could see... and I didn't have to shovel them! So I'll end this column by wishing all my friends who celebrate it a very Merry Christmas!
© 2013 Dr. Bill Bushing. Watch the "Dive Dry with Dr. Bill" underwater videos on Catalina Cable TV channel 29, 10:00 AM weekdays and on Charter Communications Cable channel 33 at 7:30 PM on Tuesdays in the Riverside/Norco area. You can also watch these episodes in iPod format on YouTube through my channel there (drbillbushing). Please help me climb out of self-imposed poverty... buy my DVD's (see this link). Yes, take Dr. Bill home with you... we'll both be glad you did!
To return to the list of ALL of Dr. Bill's "Dive Dry" newspaper columns, click here.

Jean-Michel laughing at my "holy" wetsuit and squid running seen from the surface;
Dr. Bill in a Chicago snow storm and the white field of squid eggs off Hen Rock.
This document maintained by Dr. Bill Bushing.
Material and images © 2013 Star Thrower Educational Multimedia