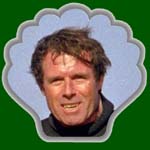 Dive Dry with Dr. Bill
#594: Back from Bonaire
As regular readers of my column know, I decided to celebrate my latest birthday by doing something I've never done on any prior birthday... flying in an airplane. Yep, at the stroke of midnight on June 11-12th my plane took off from LAX bound to Aruba in the southern Caribbean off Venezuela via Atlanta. Decades ago I would never have thought of flying on my birthday, much less any other day. My fear of flying left me grounded for 22 years after I had two potentially fatal aircraft incidents in one day back in the early 1970s. No way I was going to risk a third strike!
But I overcame that fear 20 years ago and now fly anywhere there is a decent dive destination, a beautiful woman or members of my family (well, except Jamaica). Due to a canceled flight to the Bahamas last year, I had a free flight anywhere Air Tran flew so I chose Aruba. That allowed me to hop over to Bonaire via Curacao for 10 days of fantastic diving at Bruce Bowker's Carib Inn. Unfortunately the trip from Aruba to Bonaire, a distance of about 60 miles as the frigatebird flies, took as long as my flight from LAX to Aruba due to a series of delayed or canceled flights and then waiting four hours for my lost luggage on Insel Air, or Insult Air as it is known to many residents of the Dutch Antilles!
However, the Carib Inn was just my cup of tea! I had been in touch with Bruce Bowker as I did my research for the trip and his operation allowed me to dive just the way I like... solo. Their house reef was pretty darned good and provided me with several opportunities for nice night dives with interesting footage. Although Bonaire is a great shore diving destination, being the old geezer that I am, I chose to do mostly boat dives there and was certainly not disappointed. In fact on the only shore dive away from Carib Inn, a night dive at Salt City with my friends from Indian Valley SCUBA in Pennsylvania, I ended up stumbling and scratched the LCD port on my underwater video housing... fortunately nothing serious.
Now I usually make my trips to the tropics during our harsh SoCal winters, so this trip near the start of summer was a bit unusual. Fortunately at 12 degrees North latitude, the Dutch Antilles are outside the hurricane belt and cooled by the strong trade winds that blow. I've been sweating more after I returned home than I did down there! Part of the reason is that I've spent the last 10 days at the computer editing all the video footage I shot down there instead of luxuriating in the 82 degree water on my dives or in the pool just outside my room!
For a videographer like myself, diving the tropics is a real challenge. One cannot just hunker down on a rock or on the sand and film the critters they see. Coral reefs tend to be far more fragile than our local ecosystems, and Bonaire is especially strict about buoyancy control and not using gloves to help protect the critters. One must remain above the reef to film, resulting in some footage showing little but the fish's back (instead of the usual butt shots)! The results of these protections are obvious. When I told dive instructor Larry at the Carib Inn that I use 25 pounds of weight when diving the tropics, he couldn't believe it. He was sure I'd plummet to the bottom and destroy the marine life... but after seeing me dive, he realized I knew what I needed.
Bonaire also protects the local critters by not allowing visitors to take fish or invertebrates. Residents can still fish for food, but they generally do it well offshore from the dive sites. Fish that I've found problematic to film in other areas of the Caribbean such as Belize and Honduras, were much more accustomed to a close approach by a human. That often made it much easier to get good footage of them. There were a few like the hinds and coneys (members of the seabass family) that sought shelter if I approached too quickly, but most tolerated my camera.
Although our local water here off Catalina was unusually warm this winter, and there are predictions of an El Nino that may make the summer seem nearly tropical, it was nice to immerse myself in 80+ degree water (down to depths of 130 feet). And it was a good thing since my Tilos 3/2mm wetsuit, which looked fine when I took it out of my dive locker to pack for the trip, split the length of my torso on my second dive. At least I gave a lot of divers a bunch of laughs! I really only wear a wetsuit in the tropics to avoid stingers like the "sea wasps" that others were reporting in Bonaire the month before I arrived. Fortunately the only stingers I encountered were on my dry day before flying as I filmed a bunch of jellyfish from the pier.
For the last five days of my trip I ventured back to Aruba for a little diving there with Dive Aruba. I also had a chance to watch a number of World Cup matches on a huge "jumbo tron" in the Holland Aruba Square a few blocks from my B&B. Good thing the USA wasn't playing in the matches I saw since everyone was rooting either for Holland (the islands being strongly influenced by their history of Dutch ownership) or Brazil. The enthusiasm of the soccer fans added to my experience of Aruba since I used to play and even coached soccer back at the Toyon school in the 70s.
So over the next few weeks I'll be writing columns about the unique life I observed and filmed down in the Dutch Antilles. I hope you will all enjoy learning a bit more about the interesting marine life of these tropical waters. After all, if my old college classmate Al Gore is right about global climate change (and, as a marine biologist I think he is), maybe we'll be diving coral reefs off Catalina in future decades and you'll want to get familiar with what we might see. Then again, maybe not... at least in my lifetime!
© 2014 Dr. Bill Bushing. Watch the "Dive Dry with Dr. Bill" underwater videos on Catalina Cable TV channel 29, 10:00 AM weekdays and on Charter Communications Cable channel 33 at 7:30 PM on Tuesdays in the Riverside/Norco area. You can also watch these episodes in iPod format on YouTube through my channel there (drbillbushing). Please help me climb out of self-imposed poverty... buy my DVD's (see this link). Yes, take Dr. Bill home with you... we'll both be glad you did!
To return to the list of ALL of Dr. Bill's "Dive Dry" newspaper columns, click here.

Dr. Bill practicing good buoyancy in the subtropical waters of the Bahamas and a Fourth of July tribute
with the red (bigeye snapper), while (butter hamlet) and blue (blue tang) from the Dutch Antilles.
This document maintained by Dr. Bill Bushing.
Material and images © 2014 Star Thrower Educational Multimedia