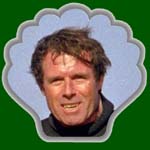 Dive Dry with Dr. Bill
#605: Who Needs the Tropics?
Ah, the warm water this summer certainly has made it more comfortable to dive. This season some have recorded surface temperatures of 77-78 degrees. On a recent dive to the north base of Ship Rock, I had a very toasty 73 F at a depth of 120 ft. Some on that dive estimated the visibility at 80-100 ft horizontally. With my eyes I couldn't see quite that far (at least clearly).
Unfortunately it also brings back memories of a summer several years back (2006) when the water temperatures were even higher at depth than they are now. That season our giant kelp forests essentially disappeared. The poor kelp (calico) bass in the dive park were looking for places to hide. Because warm water means low nutrient levels, the water was quite clear. There was essentially no plant plankton in the water so visibility was as clear as in the tropics where the sponges filter them out. It is a well known (and poorly explained) fact that when ocean temperatures hit 68 F (20 C) for a week or two, nutrient levels plummet. No nutrients mean no giant kelp... or phytoplankton... and less food for everything else except the decomposers (bacteria) and scavengers like lobster which feed on the dead and dying critters.
High temperatures also affect marine critters directly. Many have submerged to deeper depths to reach temperatures more conducive to their preferences. I was recently out at the Empire Landing Quarry where the beautiful scythe butterflyfish which I normally see at about 40-50 ft has been reported at depths of 60-80 ft. I was almost skunked but I did see one on my way back to the King Neptune on both dives there. Other critters can't move fast enough to escape the hot temperatures and may succumb to thermal stress. I'm seeing a lot of dead sea urchins out there, although not as many as during the last El Niño.
Toasty conditions also bring unusual creatures into the Channel Islands. Many of you have probably heard of the harmless but huge whale shark that was seen off Catalina's backside. Sure wish I had been in the water with it. Anglers have reported wahoo and both fishing and dive boats have been spotting hammerheads in southern California. I was diving at Twin Rocks and had a school of about 50 yellowtail circle me.
Last week dive buddy Andrea came out to the island as she was captaining a beautiful classic 65' Chris Craft yacht for the owners, Art and Betty. I was invited out to the very comfortable craft several times for drinks and dinner. Of course the drinks killed any thought of a night dive as I don't DUI (dive under the influence). It was a "sacrifice" I was quite willing to make for the great pork roast and homemade apple pie made by Betty and spaghetti by Art.
Andrea and I did get a chance to do some daytime diving. These were my first day dives in the park since summer began. We had a minor "catastrophe" as my mask strap broke and I didn't cinch down my tank straps, so I had to dive holding and purging my mask constantly. The regulator I loaned Andrea was free flowing so our dive was cut short to a mere 36 minutes. Despite these and a few other equipment issues plus the increasing surge from Hurricane Odile and a strong current, we exited the water with big smiles on our faces.
One of the reasons we were smiling is that I finally found several of the Guadalupe cardinalfish (Apogon guadalupensis) in the dive park. I hadn't observed and filmed one off Catalina since 2004. This fish has special meaning for Andrea and I. Several years ago she and her then boyfriend Tim went to one of my dive club talks in Orange County. Tim wasn't a diver but wanted to score points with Andrea. I told him that early in the video presentation I'd ask if anyone could identify "this fish" and he should immediately say "Guadalupe cardinalfish." We pulled it off, but Andrea saw through our ploy right away.
© 2014 Dr. Bill Bushing. Watch the "Dive Dry with Dr. Bill" underwater videos on Catalina Cable TV channel 29, 10:00 AM weekdays and on Charter Communications Cable channel 33 at 7:30 PM on Tuesdays in the Riverside/Norco area. You can also watch these episodes in iPod format on YouTube through my channel there (drbillbushing). Please help me climb out of self-imposed poverty... buy my DVD's (see this link). Yes, take Dr. Bill home with you... we'll both be glad you did!
To return to the list of ALL of Dr. Bill's "Dive Dry" newspaper columns, click here.

Image of cardinalfish from 2004 and more recent images of the ones in the Casino Point dive park.
This document maintained by Dr. Bill Bushing.
Material and images © 2014 Star Thrower Educational Multimedia