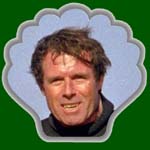 Dive Dry with Dr. Bill
#618: A "White" Christmas... for a Naughty Boy
I write these columns and produce my cable TV show for one primary purpose... to inform divers, and those less fortunate folks who never get to experience firsthand 70% of The Water Planet, about the incredible critters that abound in our waters. I certainly don't do it to get rich! To that primary goal, I try to get the best video and images possible to expose my readers and viewers to this amazing world. Recently that drive got me in hot water (even warmer than the 66 F minimum temperature I experienced on the dive in question).
Years ago Ruth Harris discovered a white abalone (Haliotis sorenseni, no relation to halitosis) in a somewhat unusual place. White abalone are seriously endangered despite the fact that they usually live at significant depths, beyond those that most divers will descend to. This ab is not doing anything to assist in the possible recovery of its species since it is sitting in its place all alone. All it does is munch on deep water kelp such as Agarum and Laminaria, and only contributes its genes to the water column. It takes two to tango (or is it tangle?) and reproduction is an individual's most important contribution to its species.
Recently I made a dive to check on and film the ab for a future video about our SoCal species. Usually this one is clinging tightly to the rock it rests on, so all I see is the shell and occasionally the epipodium (frill) and tentacles. However, on this dive the ab had "fallen" partially off the edge of its world. I decided to see if I could carefully pop it off the rock and film it. It came off without much resistance due to my lightning fast reflexes and I proceeded to film its underside. After a few minutes, I gently held it against its "scar" on the rock to ensure it got a firm grip before I returned to shallower water to meet my deco obligation.
I was pleased to get this "footage" of the ab's foot and underside and posted some of the stills in my latest Facebook album of Catalina marine critters. Upon seeing it, one of my friends suggested I should research the restrictions on encounters with this endangered species on the U.S. Fish & Wildlife Service's web pages. Obviously I knew one could not take these abs and I shouldn't have been shocked to see that simply handling them was a possible offense.
After my research, I contacted an endangered species expert in a federal agency to get his opinion and asked if he had a contact at USF&WS so I could acknowledge my possible violation. He ran it by their Endangered Species Act (ESA) specialist and, fortunately, I was not arrested and placed in the hoosegow. Of course if I had, the food would have been better than what I prepare each night.
I've always tried to follow the law regarding marine and terrestrial life... with one notable exception: trying to get rid of the darned invasive Sargassum horneri threatening the native species in our waters. I don't poach... heck, I don't even take any more (but am happy to eat a lobster or two a year taken legally by friends). In years past down at Toyon I used to find traps set by a known poacher and either crush them or send them off into the depths with no line attached.
So I certainly feel a bit sheepish about violating the ESA guidelines on this species. At least I dd it no harm. I was very careful since I'm well aware that abs do not have the ability to coagulate their blood and therefore bleed to death if injured. I'm writing this column to inform others about the prohibition on contact with many species under the ESA. Ruth and I went back to check on it a few days later and it was doing fine.
Back when the Conservancy initiated its island fox recovery program in the late 1990s under my administrative oversight (thank you Peter, Deb and Mark), we were allowed to handle the foxes and even use them in educational programs. Of course that was because we were in charge of the recovery for the subspecies under a provision of the ESA. In part that was what I was thinking with respect to the ab.
However, in the case of the white ab, I have no role in its highly doubtful recovery at this stage. I readily admit that I was a naughty boy, although I didn't realize it at the time (but should have). About a week before this dive, I told Santa that all I wanted for Christmas was his list of all the naughty ladies here in Avalon. He said he'd try, but now I think all I'll get is coal. Sigh. Wishing all my readers a much happier Christmas than I deserve!
© 2014 Dr. Bill Bushing. Watch the "Dive Dry with Dr. Bill" underwater videos on Catalina Cable TV channel 29, 10:00 AM weekdays and on Charter Communications Cable channel 33 at 7:30 PM on Tuesdays in the Riverside/Norco area. You can also watch these episodes in iPod format on YouTube through my channel there (drbillbushing). Please help me climb out of self-imposed poverty... buy my DVD's (see this link). Yes, take Dr. Bill home with you... we'll both be glad you did!
To return to the list of ALL of Dr. Bill's "Dive Dry" newspaper columns, click here.

White abalone on rock and munching on deep water kelp; white ab upside down from side and above
This document maintained by Dr. Bill Bushing.
Material and images © 2014 Star Thrower Educational Multimedia