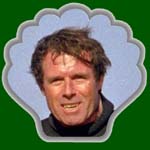 Dive Dry with Dr. Bill
#620: No Words Are Adequate
I was back in my home early December 30th before the wind and rain kicked up. I was nursing a cold and actually went to bed. When the siren sounded, I did get up to take a look at the town but couldn't see the harbor. I went back to bed, but the phone rang a short time later. When I answered it, the voice of Andrea, my favorite dive buddy (next to my son), said a harbor patrolman was missing and they thought it might be our friend Tim Mitchell.
I stayed on the phone with Andrea and connected with Jess Herzog, Tim's former wife, via Facebook as we waited for word of which patrolman was missing. One of them forwarded an image of the King Neptune on the sea wall and said Tim was trying to save the boat. At that point it was fairly intact based on the picture, but by the time it was taken Tim was probably already gone. Andrea broke off our call to contact Jess, then called me back with confirmation that Tim was absent at the roll call and presumed dead.
I went to bed and somehow managed to get to sleep. You may wonder why Andrea in Newport Beach knew about Tim being missing before I did over here on the island. Andrea and Jess are best friends and were living in New Zealand many years ago where Jess met Tim. Andrea, a SCUBA instructor and boat captain herself, actually certified Tim as an Open Water (OW), Advanced Open Water (AOW) and Rescue Diver as well as his Divemaster and several specialties in boat handling. I met Tim and Jess when they moved to Catalina more than a decade ago.
As many of you know, Tim was SCUBA Luv's top instructor (next to Bob) including technical diving. He was also one of the captains of SCUBA Luv's dive boat the King Neptune, not to mention being the tech who kept my regulators and other SCUBA gear functioning. He was a very knowledgeable instructor and technically much more proficient a diver than this flailing old geezer. But Tim was much more than that. He was an underwater videographer, still photographer, talented musician, minister, volunteer fireman and harbor patrolman. Given his diverse interests, he touched many lives beyond the SCUBA community.
In an ironic twist that really had me wondering, Bruce Ryder also happened to be a former captain of the King Neptune. Why was it these two men were lost on the same night as the King Neptune dive boat? Obviously Tim did not make it because he was valiantly trying to save the boat from destruction. But why Bruce on the same night? I didn't know Bruce as well since my interactions with him were largely limited to days when he was captain on the dive boat and the many times he would bring his dog down to the dive park so PB could take a swim. I do remember that he always seemed to have a smile on his face.
I know many of us both here on the island and in the greater dive community overtown have been stunned by these deaths. I saw blank stares and tears on the faces of many I encountered while walking through town, and broke down myself several times especially on seeing the memorial to them. Avalon is at its very best when a tragedy like this strikes. It brings out the ultimate in what a community can be, it makes us all feel a part of something bigger than ourselves. I've always had a sense of belonging not only to this small community, but to a larger one from the mainland as well as the marine and terrestrial ecosystems I explore. I think most humans want to feel they belong and are loved and appreciated. We live in a special place with incredible potential.
I had the opportunity to dive with Tim a number of times, both as his buddy and as a fellow diver on board the King Neptune (and the Catalina Diver's Supply boat before that). Perhaps my favorite diving story about Tim was when two of my SCUBA friends got married here on the island. Mark and Mina wanted an underwater wedding and I suggested Tim could officiate. We got suited up at the dive park and Tim descended with the vows written on several dive slates. Mina had a large white veil on her head that was weighted down by small round lead shot. Mark released a bag of frozen peas and the kelp bass went wild. Several of them mistook the lead shot for peas and got entangled in Mina's veil. "Minister Mitchell" (aka Reverend Tim) had to keep removing kelp bass that got caught in the veil as I filmed the wedding. Tim was also the wedding photographer for the topside wedding attended by divers and landlubbers alike.
I used to serve as the marine biologist on board the King Neptune. Thanks to Bob and Tina, I was able to explore many of the island's dive sites and use what I observed and filmed to write these columns. My last dives on the boat were back in September when my son Kevin came out to celebrate his 30th birthday. We were at the Empire Landing Quarry and Tim was teaching a tech class. I filmed some of their drills and gave Tim copies of the stills and video. I loved being out on the King Neptune and it, too, will be sorely missed.
My heart goes out to Tim's family, Michelle, Jess and his many friends as well as Bruce's family and friends. The pain is obviously far worse for those closest to them. It is hard to find words adequate to write my feelings. This loss has created a tear in the fabric of our small community which fortunately is being filled by the sense of togetherness we feel at this time. We are only on this planet for a short time relative to geologic or astronomical time. We all need to use that time to improve our community and our natural world. Tim and Bruce did.
© 2015 Dr. Bill Bushing. Watch the "Dive Dry with Dr. Bill" underwater videos on Catalina Cable TV channel 29, 10:00 AM weekdays and on Charter Communications Cable channel 33 at 7:30 PM on Tuesdays in the Riverside/Norco area. You can also watch these episodes in iPod format on YouTube through my channel there (drbillbushing). Please help me climb out of self-imposed poverty... buy my DVD's (see this link). Yes, take Dr. Bill home with you... we'll both be glad you did!
To return to the list of ALL of Dr. Bill's "Dive Dry" newspaper columns, click here.

Tim with speared yellowtail and teaching a tech class off the King Neptune;
the King Neptune on anchor and the SCUBA Luv crew salvaging
what they can from the wreck.
This document maintained by Dr. Bill Bushing.
Material and images © 2014 Star Thrower Educational Multimedia