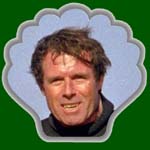 Dive Dry with Dr. Bill
#634: Palau... WOW!!!
Some time ago I sat down at my desk and wrote down a list. No, it is too early to send my Christmas wish list to Santa Claus. Besides, he knows what this bad boy really wants! No, as I mature into years way beyond my life expectancy of 30 (which we considered "very old" and untrustworthy at the tender age of a college student), I've been putting together my "bucket list." Now I don't have any thoughts of kicking the bucket any time soon, but since my list includes a number of challenging dive destinations I have to consider making those trips while I'm still a pretty virile old geezer. Recently a Swedish diver was shocked when he discovered my age... he said most Swedes at my stage are couch potatoes and couldn't dive like I do. Besides, for 22 of my "early" years I had a fear of flying that kept me close to Terra Firma. Now all I fear on an airplane is the knuckle head who keeps snoring and poking me in the ribs while taking the "red eye" to a remote destination.
I've already dived North America (duh), Europe, Asia and Australia so next on my list are Africa and South America. I'm saving Antarctica for my last continent to conquer in case the chilly water there kicks me in the bucket. However, last November friends of mine from Malibu went to Palau and suggested I should head there myself. Palau is one of the top dive destinations in the world and it has been on my list. I had an opening in my busy schedule in March since my trip to the Egyptian Red Sea with Indian Valley SCUBA was rescheduled to August. China Airlines offered special fares during the DEMA (Dive Equipment Manufacturers Association) convention so I checked their website for pricing and found a round-trip fare for a mere $1,000. Now that I've paid off my mortgage, that's within my budget so I booked a trip.
I've heard about Palau (aka Belau or Pelew) for many years. When I taught science at the Toyon School in the 70s, we had a number of students from Palau thanks to the Janss Foundation partnership. Back when I was Vice President at the Conservancy and dating Janet, her father would tell me stories of making goggles out of bamboo and snorkeling these waters when he lived there as a youngster. Pictures of the island chain have intrigued me with their incredible beauty for years. But when I told people where I was going, they frequently responded "Palau? Where's that?" Well it is a small chain of about 250 islands located in a remote part of the Pacific Ocean east of the Philippines and southwest of Yap and Guam.
I had to hit the mainland several days early because I was scheduled to give a talk to the Shark Bait Dive Club in Yorba Linda. Following that I spent a few days with dive buddy Sarah and checked out the Getty Center, then dropped down to my son's in Aliso Viejo to spend time letting my two granddaughters thoroughly exhaust me with their play. The night of Friday the 13th I took an shuttle to LAX's Bradley International Terminal and boarded a Boeing 777 that took off just after midnight. What a way to start the trip... the entertainment center had a zillion movies, most of which I'd never seen. However, I wanted to be rested when I arrived so I shut my eyes and slept almost til we reached the Taipei airport on Taiwan 14 hours later. After an eight hour layover, I flew the final four hour leg to Koror, Palau. Total travel time a long 26 hours.
There are many dive operators on Palau. My friends, Geoff and Sue, had dived with Palau Dive Adventures (PDA) and recommended them. I checked their Trip Advisor rating and saw it was excellent. I also looked at several other operators, but felt PDA would best serve my unique needs as an underwater videographer. I initiated the booking back in December and was surprised when a fireman walked up to me at Tim Mitchell's memorial reception here and asked "Are you Dr. Bill?" I read the name tag on his uniform and it was Chris Lubba, co-owner of PDA. After talking with him for a bit, I was quite sure I'd be in good hands.
There to greet me at the Palau International Airport was PDA's representative Cheryl who drove me to my hotel in downtown Koror and gave me the instructions for the first dives the following morning. Now I travel on a budget and PDA was able to get me 17 nights in the Palau Paradise Hotel which was centrally located and reasonably priced. Since most of my trips are spent underwater acquiring the video footage or editing it at night in my room, I didn't require a $400/night room to be happy. Quite the contrary... I'd be very unhappy paying that much! The hotel proved to be more than I expected and I was pampered by the staff who were intrigued by this strange amphibious creature known as Dr. Bill.
The next morning Cheryl picked me and my dive gear up at 7:45 AM and we headed toward the PDA dive boat. There I was introduced to the boat crew that included Jason, Dustin, John and Jaywin. Each had their unique personality and together they created quite an enjoyable 11 days of diving. The PDA dive boat normally carries seven guests which was very comfortable. I had checked into several other operators before booking and found some took nearly twice that number on similarly sized boats. And, of course, there are the local liveaboard dive boats operated including the Palau Aggressor, Palau Siren and Ocean Hunter. I noticed that when our day boat went out, these expensive liveaboards were often close by so I saw no reason to spend twice the amount for an operation like that.
As my stay drew to a close, I really regretted that I had not extended it another week... or a few months. Palau has now become my favorite dive destination, replacing Tahiti where I loved diving with a multitude of sharks. This destination had plenty of them as well, and a whole lot more including manta rays and my favorite all-time fish, the Napoleon wrasse. But I boarded the plane on my last day and have returned now. I'm racing through all the video I took on the 30 ocean dives and two snorkels in Jellyfish Lake. Over the next few weeks, I'm going to write a number of columns to highlight some of the incredible things I saw and experienced in this beautiful island world in Micronesia far from any continent. You can also see my still images of the trip on my Facebook page. I hope you'll enjoy experiencing what I did by reading my columns and "diving dry" with Dr. Bill!
© 2015 Dr. Bill Bushing. Watch the "Dive Dry with Dr. Bill" underwater videos on Catalina Cable TV channel 29, 10:00 AM weekdays and on Charter Communications Cable channel 33 at 7:30 PM on Tuesdays in the Riverside/Norco area. You can also watch these episodes in iPod format on YouTube through my channel there (drbillbushing). Please help me climb out of self-imposed poverty... buy my DVD's (see this link). Yes, take Dr. Bill home with you... we'll both be glad you did!
To return to the list of ALL of Dr. Bill's "Dive Dry" newspaper columns, click here.

Map showing location of Palau in the South Pacific and the Rock Islands of the country; Palau Dive Adventure's
Cheryl with their van and the boat crew of Jaywin, Dustin and co-owner Jason
This document maintained by Dr. Bill Bushing.
Material and images © 2014 Star Thrower Educational Multimedia