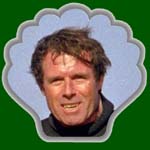 Dive Dry with Dr. Bill
#635: The Happy Hookers
Time to resume the story of my recent trip to the remote Pacific island chain known as Palau. In the past the islands were independent, then became dominated by Spain until the Spanish-American War after which they were sold to Germany in 1899. The Germans established commercial ventures in Palau that included the mining of phosphates for use in manufacturing gunpowder. Then Japan took control of the islands in 1914. During World War II the U.S. military fought a hard battle at Peleliu and took control. Following the War, the United Nations created the Trust Territory of the Pacific Islands and placed them under U.S. control. Palau later became an independent democratic republic with strong ties to America. Even today they still use the U. S. dollar as their legal tender which made currency conversions unnecessary.
Although this isolated country only has about 250 individual islands compared to the over 7,000 in the "near by" Philippines, it was a virtual treasure of new diving experiences and a chance to meet a number of new critters thanks to its high level of biodiversity. Not only did I discover many interesting and unusual species while diving there, I definitely learned a few new "tricks" during my stay. One of the more amusing ones was thanks to the assistance of the "happy hookers." No, I'm not suggesting I participated in unlicensed carnal knowledge with ladies of the night. I prefer lust with the proper stranger. However, I was far too busy editing my day's video footage up in my hotel room following dinner. Besides, these "hookers" included both man and women... and I have a strong preference only for the latter (but respect those whose boats float a different way).
Many divers who arrive in Palau are total "virgins" regardless of their gender or age. No, not in that way. I'm referring to the use of reef hooks to observe the wonders of the submarine walls that drop to depths of a thousand feet or more if you slip over the edge. Currents can be very strong in Palau. In fact on one dive in Ulong Channel I was separated from the rest of the divers in my group when the current nearly ripped off one of my fins! As I clung to a dead coral, I watched as the other divers went up and over the channel edge to the reef and disappeared. I got my fin back on and undertook Mr. Toad's wild road, carried by the current far from where I thought the group would end up. I wasn't too worried as I had my "safety sausage" ready to float at the surface so they could find me. It was only when I turned a corner and the current subsided in the shadow of the reef that I saw them gathered over the calm sandy bottom in front of me.
That was what we divers refer to as a "drift dive." It is virtually impossible for an old geezer like me (much less the younger generation whose legs have atrophied due to spending too much time in front of their video games and texting on their iPhones) to fight against such currents. You simply "go with the flow," sometimes at breathtaking speed. Drift dives are not good for underwater videographers and still photographers. You don't get a chance to stop and smell the roses along the way. However, it can be fun to be pushed along by the water and film the other divers as they flail along (good thing I never point the camera at myself!), or the reef as it whizzes by.
My chosen dive operator, Palau Dive Adventures, had the answer to the problem of getting good footage in strong currents. Like other operators there, they supplied "reef hooks" to the divers. In anticipation I had purchased my own on E-Bay prior to the trip. A reef hook has a "hook" at one end that can be used to secure it to the reef in an area with dead coral. A line connects the hook to the diver's BCD. When properly hooked onto the reef, the diver inflates their BCD and floats well above the bottom in reasonable stability for observing and filming or photographing. Of course really strong currents and swell may have you bouncing around like a gale force warning flag. My reef hook had a shorter line than most so it kept me closer to the reef, but I've included pictures with this column to show you a few of the "happy hookers" in our group.
Now the currents are tidal and depend on things such as the phase of the moon and time of day, so even at the same site a reef hook may not be necessary on all dives. We did six of my 30 dives at Blue Corner and only one was without current, allowing me to film untethered. Blue Corner is often listed as one of the top dive sites in the world, and on every dive it lived up to that billing. On my last dive there the current was especially strong and there was a fair bit of surge, most likely due to the incoming swell from Typhoon Maysak that had hit Yap and Chuuk and was on its way toward the Philippines. It was yet another wild ride yielding some great footage.
So what did I see there as a "happy hooker?" Palau, along with some of the other Micronesian islands, has created the world's largest shark sanctuary. Blue Corner is a great place to view them... gray reef, black tip reef and whitetip reef sharks drift by with the current... sometimes just a few feet from your face. Sharks are one of the most amazing fish in the sea... and truly beautiful as they swim by. Initially one of the lady-go-divers was a little nervous about encountering them. But as a very knowledgeable marine biologist, I replied that she had nothing to fear. Sharks are MAN eaters.... they leave the ladies alone! Of course when one of these generally harmless sharks would come too close, I'd simply remove my regulator and bare my fangs. The poor shark couldn't leave fast enough after that. Fortunately I didn't have to test that method on any bull or tiger sharks which may also be found in the waters of Palau!
© 2015 Dr. Bill Bushing. Watch the "Dive Dry with Dr. Bill" underwater videos on Catalina Cable TV channel 29, 10:00 AM weekdays and on Charter Communications Cable channel 33 at 7:30 PM on Tuesdays in the Riverside/Norco area. You can also watch these episodes in iPod format on YouTube through my channel there (drbillbushing). Please help me climb out of self-imposed poverty... buy my DVD's (see this link). Yes, take Dr. Bill home with you... we'll both be glad you did!
To return to the list of ALL of Dr. Bill's "Dive Dry" newspaper columns, click here.

"Happy hookers" secured to the reef... look, ma, no hands!
This document maintained by Dr. Bill Bushing.
Material and images © 2014 Star Thrower Educational Multimedia