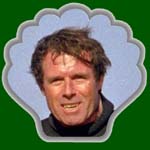 Dive Dry with Dr. Bill
#641: SCUBA Show 2015
There are two big SCUBA events in southern California each year, the SCUBA "Prom" and the SCUBA Show. This year I managed to attend both and startle divers who thought I never left our island for "the Big Island." SCUBA "Prom" is the fund raising event held at the Long Beach Aquarium for the USC Hyperbaric Chamber at Big Fisherman's Cove near Catalina's Isthmus. SCUBA Show is one of, if not THE biggest shows in America dedicated to recreational divers. The only way I'll miss it is if I'm on some distant shore diving.
SCUBA Show is different things to each diver who attends. Some, like my occasional dive buddy Sarah, go to learn more about underwater cameras and photography. Others go to look at new equipment being offered by dive gear manufacturers. Many attend for the exotic travel specials offered by resorts around the world. There are also those who go to view the numerous films exhibited in the Show's underwater film festival. One, my son Kevin, goes so he can see his old man! I go for all those reasons, but also see the Show as an annual reunion of dive friends. Some I may see only once a year as they live in far off places, some I see regularly teaching classes or diving at Casino Point.
Each year I spend a few weeks producing videos specifically tailored for entry into the SCUBA Show's film festival. These videos are shorter than my usual fare to ensure viewers don't take unexpected naps in their seats. Both of my submissions this year were on the order of 10 minutes. Each one dealt with the dynamics of kelp forests. Some of you may remember them from a few years ago before our warm water episodes, the hurricane surge last August and the near-total dominance of the invasive Asian seaweed Sargassum horneri in our waters.
Compare these short subjects to my most recent video from the trip to Palau which lasts a whopping 76 minutes... and is a sure cure for insomnia! We had hoped to premiere it in the Palau Dive Adventures booth at the Show, but technological problems prevented that. Why is it DVD and BluRay technology still isn't fully standardized... not to mention computer technology which initially had us baffled at one of the Show's seminars due to Mac/PC port incompatibility!
Although it would be more economical for me to return to the island Saturday night and go back to Long Beach the next morning, there are parties associated with the Show that make even this frugal dive bum stay overnight. This year I treated myself to a room at the Hyatt Regency adjacent to the Show and shared it with my dive friend Sarah. My earnings from the Film Festival made that a "budget neutral" situation. Sarah and I attended Robert Arak's 49th birthday party at the Rock Bottom Brewery and shared a table with friends: ScubaBoard's owner, Pete "Net Doc" Murray, his partner Elena Rodriguez and Jack Schmidt from EDGE and HOG dive gear.
Once things began to wind down there, we walked over to Rod Roddenberry's party at the Long Beach Aquarium. Rod (son of Star Trek creator Gene Roddenberry) had an Elvis impersonator and the SCUBA Cowboy, Pup Morse, providing entertainment; Greg Holt of SCUBA Radio emceeing the raffle drawing; and one of my favorite mermaids, Valentina Lomborg, flopping around on her tail fin by the touch tank (no PDA involved though). About 11:00 pm my eyes and legs began to give out so Sarah and I went back to the Hyatt and I was out like a burned out light within minutes.
Sunday morning we chowed down on pancakes and French toast then went back to the Show. This weekend I spent a fair bit of time at the PDA booth (Palau Dive Adventures, not Public Display of Affection... sigh) answering questions for those interested in going to Palau (and what serious diver isn't?). Chris Lubba of PDA even talked me into speaking at a seminar about diving in Palau so I finally overcame my "stage fright" (me? seriously? you're joking Dr. Bill!) and gave my first live presentation at the Show. Because of this seminar I was able to meet a number of others involved in dive tourism to that Pacific nation which was fun and educational.
One of the opportunities I spoke of at the seminar and in PDA's booth was a two week trip I will lead to Palau in April of 2016. It will be limited to six other divers who will all stay together at the Palau Paradise Hotel, dive the world class sites there with PDA and be lulled to sleep by evening talks about Palau and the critters there by yours truly. My first trip to Palau gave me the opportunity to learn many of the critters that reside there. Of course I still have a "few" of the nearly 1,500 fish species there to familiarize myself with! The focus of this trip will be to do something I love to do in any new destination I dive... try to understand how the "pieces" (species) fit together into an ecological community. Those interested in diving Palau or joining me on this adventure can get further information from Chris at Palau Dive Adventures (http://www.palaudiveadventures.com/)
But now it is time to do a little more diving in our ravaged kelp "forests" until I head out to the Egyptian Red Sea as the guest of Indian Valley SCUBA in August. And I will certainly sort through all the dive travel opportunities and specials I acquired at the Show to look for new destinations. I've got to get to Keith's Sunset House and the Southern Cross Club in the Cayman Islands not to mention Indonesia, Hawaii, South America and all the others I salivate over. I just hope I live long enough to dive them all!
© 2015 Dr. Bill Bushing. Watch the "Dive Dry with Dr. Bill" underwater videos on Catalina Cable TV channel 29, 10:00 AM weekdays and on Charter Communications Cable channel 33 at 7:30 PM on Tuesdays in the Riverside/Norco area. You can also watch these episodes in iPod format on YouTube through my channel there (drbillbushing). Please help me climb out of self-imposed poverty... buy my DVD's (see this link). Yes, take Dr. Bill home with you... we'll both be glad you did!
To return to the list of ALL of Dr. Bill's "Dive Dry" newspaper columns, click here.

PDA booth with Chris, myself and Palau Tourist Authority rep, and my son and I; Sheila, Elena, Kimber and DB
in ScubaBoard booth and Jack, "Net Doc," Elena, Sarah and I at Robert Arak's birthday party.
This document maintained by Dr. Bill Bushing.
Material and images © 2014 Star Thrower Educational Multimedia