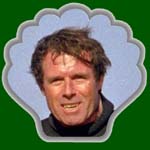 Dive Dry with Dr. Bill
#654: The Star Thrower
Most of you know of me through the phrase "Dive Dry with Dr. Bill" since that is the title of these weekly newspaper columns and of my first cable TV show that featured highlights from my weekly dives. It is also plastered across the Dr. Bill Mobile's windshield. For those of you who haven't seen it, that is the ancient Yamaha golf cart I drive when I need to carry dive gear to the park or lug a lot of groceries up the hill to my home.
Some divers think I use that phrase because I dive in a warm dry suit. I don't. In my mind that defeats one purpose in diving... to get wet. Of course I'll change my mind when I finally dive Antarctica (although one of my Harvard professors dove there in a 13mm wetsuit back in 1957)!. A few years ago Bonita Chamberlin, wife of Dick Long who founded DUI (a major manufacturer of dry suits), was walking toward my golf cart and turned to me and asked "is that one of our dry suit dealers?"
"Dive Dry with Dr. Bill" refers to the fact that YOU, the readers and viewers of my underwater videos, can participate in the underwater world by simply sitting in your comfortable easy chair with your favorite adult beverage (or cocoa and marshmallows if you prefer). I do not require any of you to experience cold water or own a wetsuit! My "porpoise" in life is to bring the underwater world not only to divers who experience it directly, but to the many who do not descend into King Neptune's realm. My hope is that by giving you a better understanding of what goes on beneath the waves will increase your desire to protect it.
Jacques Yves Cousteau is often quoted as saying "People protect what they love." I once pointed out to Jean-Michel Cousteau that this phrase may have had its origins in a quote by the Senegalese poet and environmentalist Baba Dioum who said "In the end we will conserve only what we love, we will love only what we understand and we will only understand what we are taught." One of my lifelong goals, beginning with my teaching at the Toyon school 46 years ago, is to educate people about our marine environment in the hopes that they will come to love it and want to protect it.
However, my actual company has a different name, Starthrower Educational Multimedia. Few people know it by that name, although the IRS is well aware and continually wonders how I can survive on the meager profits it occasionally generates! Starthrower, you ask... where in Heaven's name did that come from. Although I used to teach astronomy way back when and still own two telescopes, it has nothing to do with glowing bodies of gas (unless you count me in that category). I've written previously that all life comes from the heavier elements (such as carbon, nitrogen and oxygen) produced by the nuclear reactions in second generation stars, but that is not the missing link to the name either.
Back about 1980 I was visiting my parents in Chicago for the Christmas holiday. Despite global warming, the Midwest is not exactly a warm and cozy place that time of year. In fact it can be downright frosty. Indeed one winter I was there it hit 81 BELOW ZERO with the wind chill. Weather like that tends to keep people inside and the most vigorous activity during such times may simply be turning the pages of a good book!
I had purchased Loren Eiseley's The Star Thrower, a collection of his essays and poems. In the title story he told of walking along a beach upon which many people were gathered to collect shells and living creatures to take home as souvenirs. There was one man who was only picking up starfish (or sea stars as the PC crowd prefers to call them). He would look at them, determine whether they were still alive or not and, if death had not taken them, he would throw the star back into the ocean in hopes it would survive.
I liked this image of one person doing what they could to try to save nature. The star thrower represented what I hoped to do with my life; and, through my example and teaching, create the same feeling in others. When I returned to Catalina, my friend and graphic artist Buddy Doyle created a logo for me that I use today. The rest is historical... or rather, hysterical. Now that I'm officially "retired," I continue doing the same things that brought me wealth and fame over the years. Now that last statement is truly a work of fiction!
© 2015 Dr. Bill Bushing. Watch the "Dive Dry with Dr. Bill" underwater videos on Catalina Cable TV channel 29, 10:00 AM weekdays and on Charter Communications Cable channel 33 at 7:30 PM on Tuesdays in the Riverside/Norco area. You can also watch these episodes in iPod format on YouTube through my channel there (drbillbushing). Please help me climb out of self-imposed poverty... buy my DVD's (see this link). Yes, take Dr. Bill home with you... we'll both be glad you did!
To return to the list of ALL of Dr. Bill's "Dive Dry" newspaper columns, click here.

The opening screens from StarThrower Educational Multimedia's "Munching & Mating in the Macrocystis"
cable TV series (which you can also view on my YouTube channel, DrBillBushing)
This document maintained by Dr. Bill Bushing.
Material and images © 2015 Star Thrower Educational Multimedia