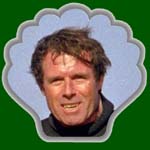 Dive Dry with Dr. Bill
#693: SCUBA SHOW 2016
This week I'm writing not about the usual critters in the sea, the invertebrates and fishes, but about the critters who descend into the sea to observe and film them. Yes, I'm referring to my fellow divers who, like me, enjoy the realm of King Neptune on a regular basis.
Last weekend I attended a major annual event that brings together thousands of divers in one place... and it's not even wet. I'm talking about the annual SCUBA Show at the Long Beach Convention Center. I look forward to it every year as a wonderful opportunity to gather together with my tribe. You know, the people you see wandering around our town dressed in black neoprene.
This event includes a wide range of activities under one roof. In addition to all the socializing that goes on under the building's roof, exhibitor booths are packed along the nine aisles of the show ready to offer information on dive gear and accessories, underwater photography and videography, dive-related services and my favorite, dive travel with special show discounted trips.
A continuous underwater film festival also runs both days of the Show with films covering diving and marine life from around the world. For at least 10 years I've contributed films that were selected for the Show. This year two of mine ran. "The Lonely Damsel Redux" focused on the first documented sighting of the whitetail damsel (Stegastes leucorus) in California waters. The second, "Double Trouble," looked at the "perfect storm" of The Blobs, El Niño and the invasive Sargassum horneri as they combined to decimate our local kelp forests the past two years.
Last year I spent time manning the Palau Dive Adventures booth after spending a fantastic 2 1/2 weeks with them earlier that year. This year I did the same, joining co-owner Chris Lubba and his team spreading the word about what a great operation they have in that remote but incredible dive destination. I even gave my first seminar ("Palau... WOW!") about diving in Palau. I was a bit shocked when the venue was standing room only and I didn't hear any snoring.
Five years ago I was honored with the 2011 California SCUBA Service Award, given to an individual in recognition for their service to the diving community. This year's recipient was far more worthy of that award. Zale Parry is one of the true pioneers in diving. Back in 1954 she set the women's deep diving record off Catalina with local diving legend Cap Perkins as one of her safety divers. The following year she appeared on the cover of Sports Illustrated's first swimsuit issue. Many saw her along with Lloyd Bridges in episodes of television's "Sea Hunt" series in the late 1950s and early 1960s. I am honored to be a friend of hers.
The award is given at the SCUBA Show Party held at the Aquarium of the Pacific Saturday night. This event is co-hosted by Rod Roddenberry, son of Star Trek's Gene Roddenberry. Rod is an avid diver and I have been a member of his dive team for several years. Unfortunately for the first time in years I missed the event, and the opportunity to meet Marina Inserra, Miss California 2014 (also Miss SCUBA Queen 2016). I had attended Scubatude's own Robert Arak's birthday party after the Show and at my advanced age my eyes started closing prematurely and I went back to the hotel to dream.
It was wonderful to see so many friends at this show, most of whom I've met over the years diving our own Casino Point Dive Park. This year ScubaBoard did not have a booth, but I sat with owner Pete Murray and Elena Rodriguez at Robert's birthday party. Many other friends were working in their respective booths and were besieged with potential customers so our contact was limited. Suuz Martines, founder of ScubaDoRags and ScubaTubeSocks gave me a hug and a pair of her wildly colorful tube socks to wear (even though she said I'm already a colorful character). I'm already looking forward to next year's event!
© 2016 Dr. Bill Bushing. Watch the "Dive Dry with Dr. Bill" underwater videos on Catalina Cable TV channel 29, 10:00 AM weekdays and on Charter Communications Cable channel 33 at 7:30 PM on Tuesdays in the Riverside/Norco area. You can also watch these episodes in iPod format on YouTube through my channel there (drbillbushing). Please help me climb out of self-imposed poverty... buy my DVD's (see this link). Yes, take Dr. Bill home with you... we'll both be glad you did!
To return to the list of ALL of Dr. Bill's "Dive Dry" newspaper columns, click here.

The Palau Dive Adventures booth, my seminar talk on diving Palau; Suuz
Martines' Scuba Do Rag booth and Robert Arak's Scubatude booth.
This document maintained by Dr. Bill Bushing.
Material and images © 2016 Star Thrower Educational Multimedia