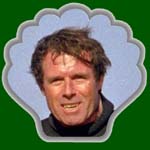 Dive Dry with Dr. Bill
#694: A Great White Birthday
Fortunately my birthday is in June so even when I lived back in Chicago and Boston, there was never a blizzard to dampen my special day. But I'm not trying to give you a snow job with this column. No, the great white I'm referring to is also known as "the landlord." I'm glad I own my house free and clear and don't pay rent to anyone. And actually the birthday I'm referring to isn't mine, but Jacques-Yves Cousteau.
Yes, Mr. Cousteau was born the day before I was (although fortunately 37 years earlier). Sadly many new divers aren't aware of his co-invention of the demand regulator that makes SCUBA diving possible, nor of his pioneering documentaries about "The Silent World." Back in 1986 I fulfilled one of my bucket list items when I was asked to work on one of his documentaries for Turner Broadcasting's "Cousteau's Rediscovery of the World." Rather than sailing on Calypso, I was on board their experimental windship Alcyone with his son (and my old friend) Jean-Michel as well as The Cousteau Society's vice president, Dr. Richard C. "Murph" Murphy.
What could be better to celebrate JYC's special day than to plunge into the briny depths down at our dive park. Now on weekends when there are often many other divers present, I spend a lot of time socializing and less time actually diving. I'd been down there an hour before I even suited up. Shortly after that, local instructor and former U.S. Marine Andy Wadley came out of the water with a strange look on his face. He told me he had just seen a large great white shark while approaching the small wrecks. Then instructor Cindy Sieman said a member of her group had seen it too, but in even shallower water.
Now I've dived with great whites before (whether I knew it or not) so I didn't hesitate to enter the water. However, being the incredibly intelligent marine biologist that I am (cough, cough), I did stay shallow and inside the kelp line. The visibility was absolutely terrible (about 10 ft) so I doubted I'd see the shark even it it did happen upon me. I've been told I'm just not fat enough yet to compete with a tender, juicy sea lion as the entree for these predators.
I stayed down for 80 minutes and when I approached the dive park stairs I didn't see a single diver or snorkeler anywhere. Obviously something was wrong. Once I climbed up the stairs, I learned that there had been one or two more sightings while I was diving, and our local authorities had closed the park temporarily. It did reopen about an hour later once warning signs about the shark sighting had been posted.
Now I've heard infrequent reports of other great whites appearing in the dive park, but these few sightings were all of fish-eating youngsters. I had never heard of an adult this large in the park before. Of course we know they are in our waters. I've had a 13 ft great white swim behind my back according to artist Wyland who was my dive buddy that day. My son Kevin and I saw one off Ship Rock a few years ago. Anglers and boaters have reported seeing them from their vessels. Occasionally I've encountered floating sea lion carcasses that were the apparent victims of shark attacks. But why did this adult enter the park?
I had noticed a commercial swordfish boat anchored illegally right off one of the dive park boundary buoys. Boats are not supposed to anchor within 300 feet of the park's boundary, and this vessel was mere feet away from a sign proclaiming that. I learned the following day that the crew on that boat had reportedly been cleaning fish and dumping the offal right into the water! What were they thinking? That could easily explain why the first sighting by Andy was in that vicinity of the park!
The following day was my birthday and I elected not to dive. No, it wasn't because of the great white. The poor visibility made it difficult to get any decent video so why bother. Now in my early years of diving here (late 60s and early 70s), I had a serious fear about great whites. I bought the biggest, baddest Jim Bowie dive knife I could find. Of course I never had to use it. These days I don't get overly concerned by a shark sighting. However, I don't surface swim, paddleboard or surf! So far, so good.
© 2016 Dr. Bill Bushing. Watch the "Dive Dry with Dr. Bill" underwater videos on Catalina Cable TV channel 29, 10:00 AM weekdays and on Charter Communications Cable channel 33 at 7:30 PM on Tuesdays in the Riverside/Norco area. You can also watch these episodes in iPod format on YouTube through my channel there (drbillbushing). Please help me climb out of self-imposed poverty... buy my DVD's (see this link). Yes, take Dr. Bill home with you... we'll both be glad you did!
To return to the list of ALL of Dr. Bill's "Dive Dry" newspaper columns, click here.

Great white sharks I filmed off Guadalupe Island, Mexico with one showing an 18 foot female
swimming past the cage holding Dr. Guy Harvey and the warning notice posted at dive park.
This document maintained by Dr. Bill Bushing.
Material and images © 2016 Star Thrower Educational Multimedia