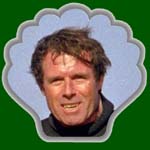 Dive Dry with Dr. Bill
#720: Avalon Harbor Cleanup 2017
This year the annual harbor clean-up was sandwiched between two rains on a beautiful day. About 400 divers came out to dive Avalon Bay and Lover's Cove to search for trash on the ocean floor and haul it back to dry land to be taken to the dump. For 36 years divers have been performing this service to our community.
This year I did not dive the clean-up due to my cancer and the presence of a hole in my abdomen. Given my "holy" wetsuits it would not have been prudent to risk bacterial infection at this time. However, my son Kevin and occasional dive buddy Sarah Punzal came out to dive it. Kevin came up with a fiberglass piece of a boat and a large traffic cone while Sarah came up with a picture of a Spanish shawl nudibranch (Flabellina iodinea).
After both got hot showers up at the house, we reassembled for the awards ceremony and raffle drawing. Local instructor Ruth Harris had to work the CDS dive shop on the pier and asked if I would hold the 150 raffle tickets she bought and see if she won anything. Now when I purchase tickets I might as well be playing the Powerball, because I never win (although the money raised goes to great causes, our hyperbaric chamber at Two Harbors and USC's scientific diver program).
However when I've held tickets for other divers who couldn't be at the raffle, they have won. In this case Ruth's tickets took home THREE prizes including the grand prize... one of my BluRay disks about my dive trip to the Bahamas a few years ago. Oh, yeah, and a free stay on Blackbeard's dive boat in the Bahamas.
Kevin, several others and myself went over to give Ruth her prizes. Before handing her the bags, my son asked if she had a passport. She was shocked. Yes, Ruth... you are going on a trip to the Bahamas for a week of warm water diving. Of course since I had been the one to go on stage to receive the prizes, people thought I had won the grand prize. Throughout the rest of the day and evening they were congratulating me and I had to set them straight.
In addition to the raffle there were a number of awards given to divers. These included ones for the most valuable item pulled up (a wedding ring), least valuable, best furniture item, etc. Finally the Jon Hardy award was given to Karim Hamza, co-owner of Hollywood Divers, for being an individual who contributed to promoting Catalina as a dive destination. After receiving the award, Karim invited me up to the stage and said he wanted to dedicate the award to Dr. Bill (whoever that is).
I've known Karim for some time. A few years ago he and I were diving Ship Rock off SCUBA Luv's King Neptune. Karim was taking a tech diving course. I asked him what his dive profile would be and he said he would be down along the base of Ship Rock's NE side. At the time I was doing a lot of deep diving and surprised him and the class at about 170 ft. filming them as I swam next to the group. Karim, through Global Underwater Explorers (GUE), has linked tech diving with a number of great environmental and educational programs.
The annual harbor clean-up is one of my favorite events since it brings so many of my mainland dive friends over for a weekend of fun and community service. I spent all three nights last weekend dining and socializing with many of these dive "buddies." Somehow we ended up at The Lobster Trap all three nights (hmmm... could it be the good food?) and at El Galleon for karaoke two of the nights with clean-up emcee T.J. Jones belting out "Sympathy for the Devil." Per my agreement with the Chamber of Commerce I didn't sing... they said that when I do, the boats in the harbor clear out.
To end this column I want to thank all the divers who paid to come out here and provide a service to our community. Of course the volunteers who helped organize this event like Jill Boivin, Tom Turney, Ken Kurtis and many others deserve our thanks. Emcee T. J. Jones was out once again to make the event hysterical... and, of course, brought the "monkeys" divers crave. Our local community and school also provided help in several ways. Thank you all who made this yet another successful cleanup.
© 2017 Dr. Bill Bushing. Watch the "Dive Dry with Dr. Bill" underwater videos on Catalina Cable TV channel 29, 10:00 AM weekdays and on Charter Communications Cable channel 33 at 7:30 PM on Tuesdays in the Riverside/Norco area. You can also watch these episodes in iPod format on YouTube through my channel there (drbillbushing). Please help me climb out of self-imposed poverty... buy my DVD's (see this link). Yes, take Dr. Bill home with you... we'll both be glad you did!
To return to the list of ALL of Dr. Bill's "Dive Dry" newspaper columns, click here.

Divers entering Avalon Bay at start of cleanup and my son Kevin with his contribution; Ken Kurtis and one tall tale
from the Silver Tongued Devil competition and Ken Kurtis giving Karim Hamsa the Jon Hardy award. .
This document maintained by Dr. Bill Bushing.
Material and images © 2017 Star Thrower Educational Multimedia