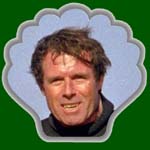 Dive Dry with Dr. Bill
#722: A Fishy Name for a Wreck
Tony Baloney used to say when playing his guitar out on the patio at Antonios "what sits on the ocean floor and twitches? Why a nervous wreck, of course!" As a marine biologist, I rarely dive wrecks unless they are heavily populated with critters. I do make some exceptions for historically significant wrecks, like the one I dove in Palau that still had Japanese sake on it from World War II. I will frequently dive the Suejac in our dive park and ocasionally head out to the Valiant in adjacent Descanso Bay.
There is one local wreck I have an historic interest in for personal reasons. I'm referring to the upside down glassbottom boat in our local dive park. Now many divers have no idea that its actual name is the Pisces. I do because I used to party on that boat back when it was afloat in the early 1970s. In fact I'm still Facebook friends with its former owner, Lynn Stokes, before Davy Jones' took possesion of her. He just called me as I'm writing this with a little more info on the vessel.
Apparently it began life as a Navy hydrofoil based out of San Diego. The Navy converted it into a glassbottom boat to take brass out to Pt. Loma. George Taylor of the Catalina Island Girls camp acquired the boat. At that time it was painted white and known as the "Discoverer." Lynn used the boat to transport campers from Taylor's girls camp back when they subleased the Toyon school's facilities during the summer. I was one of the few single males allowed to stay on campus. The campers were far too young for me (even though I eventually dated two of them much later) but the counselors were fair game (except in George's eyes!).
Lynn and I were both interested in one counselor named Nancy Brantley. My boat (the Eleutheria) was smaller than Lynn's so he won her hand and heart. The story of my life. I got my "revenge" one day while Lynn was on the mainland. I watched the Pisces hit the breakwater at Casino Point after losing its anchor. I swear on a stack of fish field guides that I had nothing to do with it. Sadly, I did take a number of pictures as the boat sank... but to this day can't find them or the negatives.
Lynn used the vessel to trap lobster but blew an engine while out at Santa Barbara Island. He got a tow in to the mainland and had the engine repaired. At this time the hull was painted black instead of white. It had an aluminum hull and a number of viewing windows. All the windows are long gone now. At one time the steel chain from one of the dive park boundary buoys chafed the hull of the boat and tore sections of it away. Fortunately that boundary buoy and chain are further out now so they are not causing further damage. Lynn and I had a fun phone conversation reminiscing about the good old days.
© 2017 Dr. Bill Bushing. Watch the "Dive Dry with Dr. Bill" underwater videos on Catalina Cable TV channel 29, 10:00 AM weekdays and on Charter Communications Cable channel 33 at 7:30 PM on Tuesdays in the Riverside/Norco area. You can also watch these episodes in iPod format on YouTube through my channel there (drbillbushing). Please help me climb out of self-imposed poverty... buy my DVD's (see this link). Yes, take Dr. Bill home with you... we'll both be glad you did!
To return to the list of ALL of Dr. Bill's "Dive Dry" newspaper columns, click here.

Pisces upside-down on the bottom and viewing ports; boundary chain tearing piece off Pisces and part of the hull ripped off by it.
This document maintained by Dr. Bill Bushing.
Material and images © 2017 Star Thrower Educational Multimedia